There is no question Kelly Clark is currently the dominant force in women's halfpipe snowboarding. But at Winter X Aspen 2012, she won't just float her way to gold. She will have to earn it. More accurately, she will have to fend off a talented field of seven other women -- five who each have a WX medal -- who are chomping to knock her off the top podium spot. Powerful, experienced competitors such as Gretchen Bleiler, Torah Bright, Maddy Schaffrick and Kaitlyn Farrington will put down runs that will challenge Clark or wait for her to bobble one of her signature perfect runs to sneak past her.
The 28-year-old Clark has won the last 12 contests she's entered and received 2011 ESPY nominations for Best Female Action Sports Athlete and Female Athlete of the Year. At WX 2011 she became the first woman to land a 1080 in competition. She has the best amplitude and the best tricks (in addition to her 1080, she says new tricks for WX '12 could include larger switch and backside spins, and an invert). And she has a competitive spirit second to none. Still, she's the first to offer accolades to the entire field of women's halfpipe riders.
"I think that I've seen some of the best women's riding ever, this season alone," said Clark after her win at Breckenridge Dew Tour in December. "At qualifiers last week, I saw five girls do front 9s first hit. To make it to the finals here, three girls did back 9s. It's just incredible to see the level and it's just a privilege to be in the mix with these amazing snowboarders. I'm really excited for the rest of the year's competitions."
Gretchen Bleiler took second place to Clark at Dew Tour Breckenridge. A four-time Winter X Games gold medalist ('03, '05, '08, '10), Bleiler is at the top of her game after taking the majority of the 2010-11 season off from competition to train, refocus and progress her riding. The proof has come in many forms lately. In the December issue of ESPN The Magazine,Bleiler was featured on a cover of the Body Issue, epitomizing the fittest athletes in the world. She then delivered at the 2012 Breck Dew Tour, where she was leading until Clark dropped the winning run on her second lap.
"

I've seen some of the best women's riding ever, this season alone.

"

-- Kelly Clark
In terms of new and improved riding for WX, Bleiler says she's been working on changing the axis in which she spins in the halfpipe. You'll see her new frontside corked 720 and 900, her new height out of the pipe, and her technical back-to-back 900 combination.
"This contest is always one of the most progressive showings of women's snowboarding throughout the year," said Bleiler. "Already the level that the women are riding at this season is insane and I'm sure it will be pushed even further at this event. My approach will be to train consistently so that I will land my perfect runs and really enjoy the experience, take in the energy of the WX crowd, and give everyone a good show."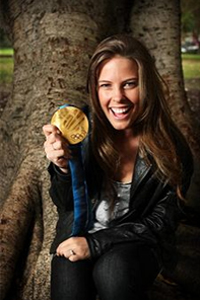 If Bleiler can't beat Clark, Australia's Torah Bright is next in line. Before WX 2011, Bright was considered perhaps the world's most progressive female halfpipe rider. She mixed amplitude with creative, technical tricks to keep her atop podiums across the world. She used this athletic prowess to win two Winter X gold medals and the 2010 Olympic Games. However, since Vancouver, she's hardly competed. At Winter X 2011, she dropped out of SuperPipe to focus on Slopestyle, which she later dropped, too. As of mid-January, Torah was keeping a low profile and rumors were circulating that she might not even show up in Aspen. But if she does compete, the questions remains: Will the lengthy absence affect her?
Maddy Schaffrick of Steamboat Springs, Colorado, who was the youngest rider at the 2009 and 2010 Winter X Games, is now 17 and back from an injury that put her out for an entire season. In her first competition in 18 months, at the Copper Grand Prix in December, Schaffrick stepped up her game, taking second place to Clark. She followed that up with a respectable fourth place at Dew Tour Breckenridge. Maddy can throw a switch backside 720 (the trick that Torah Bright wowed with at WX '09) and has increased her boost out of the pipe as well as her overall strength and style. She likely doesn't have what it takes to beat Clark's best runs, but she will lead a strong bottom half of the field, which includes 2011 silver medalist Kaitlyn Farrington, Hannah Teter, Elena Hight and China's Cai Xuetong.
Women's SuperPipe is predominantly an American sport for Winter X '12, with six athletes from the USA, one from Australia and one from China. The field is full of veterans and medalists, with six of the eight athletes having at least one medal. Kelly Clark has the most with eight (three gold), Gretchen Bleiler owns five (four gold) and Hannah Teter has five (one gold, four bronze). Bleiler is the oldest rider at 30 and Schaffrick is the youngest at 17.