This year production crew Finger On Da Trigga has teamed up with Marc Frank Montoya for their fall release, "Hard To Earn." Along with a roster that includes Lucas Magoon, Travis Kennedy, Chris Bradshaw, Johnny Paxson, Jake Devine, Cory Cronk and a long list of others, there's a relative newcomer to the group, Dylan Thompson. According to FODT producer Cole Taylor, "He's our new rookie who's about to blow up."
With a growing list of sponsors—Technine, ThirtyTwo, Neff, and IPS—21-year-old Thompson will be coming with his first official part in "Hard To Earn." Though Thompson landed a part in FODT's 2008 release, "Familia," he had only a short month and a half to film. Whereas this season he spent the entire year with the crew, shooting mostly in Salt Lake, and spending a lot of time with MFM himself.
As Technine bossman Ethan Fortier says of Thompson, "Shooting with Dylan is sick, you always know that you are going to get something good. He quietly goes to work on a feature and does not quit till we get the shot. Positive, mellow attitude with smooth style. I can't wait to see what this kid does in the years to come. We are lucky to have him representing Technine head to toe." Here's what the Hood River native, Salt Lake City transplant had to say about filming with FOTD this year.
How did you get hooked up with FODT crew?
I started riding with Jonah Owen last season, and he filmed with FODT. I ended up going out with them to shoot a few times in the spring and was able to get a couple shots. That's when Cole [Taylor] told me I could come out and try to get as many shots as I could before the video was done. I didn't expect much, but we ended up filming a bunch and I ended up with a full part in "Familia" in a month and a half of filming. But this year was my first full year filming so I'm pretty excited.
Talk to me about your part. You nail down some bangers?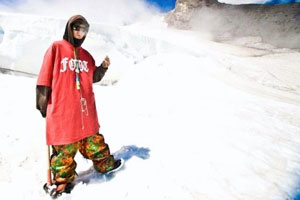 Definitely stoked on some shots and I'm excited to see how my part turns out. I'm pretty happy with the shots I got, but would have liked to have more jump shots. That's the only thing I would like to have done differently. I filmed mostly in utah, but I did take a few road trips: We went to Colorado and Cali, but mainly I locked my part down in Salt Lake. It's not a bad place to film a part though—there's so much there. But it can get crowded with how many crews are trying to film there.
What about your riding, what kind of style are you after?
I don't know... I just try and be smooth and look comfortable. If you're comfortable on your board it will show in your style. And I like to ride everything. I spend more time jibbing than anything else but I like to ride everything I can. I want to get in the backcountry more next season and, like I said, get some more jump shots.
Who else in the crew are stoked on? What parts are you hyped to check?
I'm stoked to see all the parts. Everyone definitely got some sick shots. But I guess I'm especially stoked to see Johnny Paxson's part because he definitely went next level this year. Jonah [Owens], TK [Travis Kennedy], those dudes kill it. And MFM, he's got the smoothest style and he puts it down.
Did you get to shred with MFM at all this year?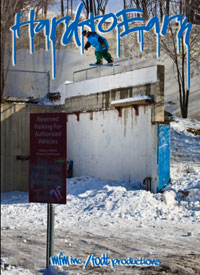 Yeah, I rode with Marco a lot this season. So awesome. I always looked up to him growing up. Marco has the sickest style, and it was pretty unreal to meet him and film with him all year. He's a super chill dude too, and he knows what up. Everything he does is so smooth, so sick to witness his riding in person. He really is so good.
What have you been up to this summer?
I'm just chilling out in Oregon for the summer. I go ride at Hood a bunch and spend a lot of time on the river. Hopefully try and stack a little loot and just have fun and relax. See some sights. I'd really like to do some surfing at some point. That would be chill.
Plans for the upcoming season?
Not too sure yet. I want to ride as much as possible and get in the backcountry. Just try and get a better part than this year, and keep progressing in my riding. I want to have a good time and enjoy the season the best I can, and I plan to do more traveling to film this winter as well. Every new season is an adventure, and I can't wait to see what this next season brings.