Take a meander through the archives of snowboard history with one of the original, legendary snowboard photographers, Trevor Graves.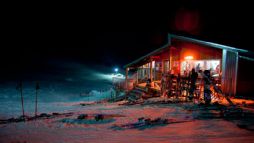 New Zealand's club fields are like no other ski areas in the world. But with low snowfall winters and small visitor numbers, can they stay in the game?
Meet 13-year-old snowboard halfpipe sensation Chloe Kim.

We go behind the scenes of the biggest night in sports as Sage Kotsenburg, Jamie Anderson and Nyjah Huston win at the 2014 ESPYS.
Slopestyle gold medalists Joss Christsensen, Sage Kotsenburg coach at Woodward camps in Colorado and Tahoe

Olympic lookback with slopestyle gold medalist Sage Kotsenburg, who is spending the week coaching summer camps and attending the ESPYS.

Sarah Spain sits down with Olympic snowboarder and gold medalist Kelly Clark to talk all things ESPYS.