Louie Lopez was known as a mega-grom for the last few years but has since grown to become a full-blown powerhouse in the world of skateboarding. Lopez started turning heads at am contests with his big bag of tricks and his even bigger smile. Though Lopez has been around for years he's only had one major video part in Flip Skateboards "Extremely Sorry." So here we are on the day of video part number two, a little ditty for Volcom called "Road Tested." ESPN.com sat down to talk to Lopez about becoming an adult, family matters and filming for "Road Tested."
ESPN.com: Are you driving yet Louie?
Lopez: No I'm not driving yet, I'm lagging it. I'm turning 18 next month and I'm thinking about just trying to get it then.
Tell me about your first skateboard, I heard there was a tragedy?
My dad ran it over with his truck. I didn't trust him anymore so for the next two years I put it in my bed to make sure it was with me every day.
Is it true that you helped your grandfather buy a house?
Yeah, my grandfather was the only one who lived out of the way from us, he was out in LA, so there was a house across the street and he and I are going halves on it.
Are you going to take the house over some day?
I guess we will have to see how it goes. For now I have a bowl in the backyard so I do my thing and he does his.
You have a bowl in your grandfathers back yard?!
Yeah -- it's a wooden one. Concrete is gnarly.
Have you ever ridden for another board company other than Flip?
I rode for Powell right before Flip. Probably about a year or so.
And how old were you when you got on flip?
Around 11 or 12. Yeah, it's been a long time.
Now tell me about the first time you went to the Hermosa park.
I was really young and when I got there I saw everyone skating but was too scared to go in so I just went and messed around with a curb out front.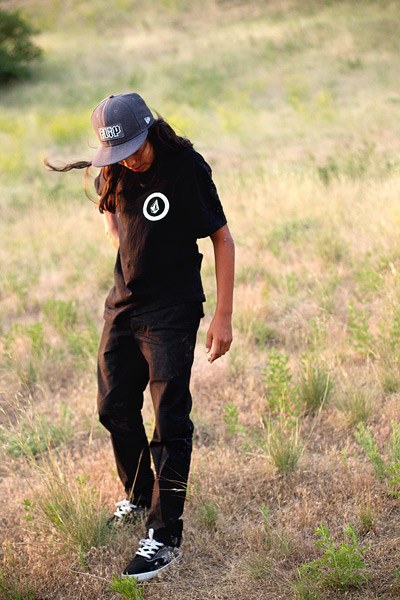 I heard they wouldn't let you in because you were too tiny at the time.
Really? I never knew that. My parents probably didn't tell me, but I was too intimidated to go in either way.
Is it true that you can fall asleep anywhere any time?
If I'm tired and I'm going to be somewhere for a while I'll take a little nap. Not during a session, unless it's late at night but I would rather watch -- it depends on the situation.
How did you become friends with Odd Future?
Some of us grew up in Hawthorne which is where I live and we all skated the park together.
Are they going to be the music in your next part?
I don't know, but I have skated to one of their songs in a homie video.
How long did you film for this new Volcom part?
I had some footage from this two week trip we took to Mexico and Puerto Rico and afterward Jake Smith (Volcom TM) told me that I had a month to finish filming a video part for them.
How do you feel about the part?
I wish I would have had more but I'm stoked on it.