Hundreds of years ago, in roughly 400 BT (Before Twitter), the Japanese began penning short poems comprised of 17 syllables in three lines -- five syllables, seven syllables, then five syllables, respectively. Wondering if we could provoke the haiku-master Bashō to turn over in his grave, we've started "5/7/5: Haiku Music Review." These poems make a tweet seem like a Russian novel. They'll be a regular feature here, so stay tuned.
Dropkick Murphys, "Signed And Sealed In Blood"
Label: Born & Bred Records
Irish punk rockers Dropkick Murphys have come a long way since forming just south of South Boston in 1996. Influenced by The Pogues and The Clash, the Quincy-based band was well received immediately and invited to open for The Mighty Mighty Bosstones in 1997. Over the past 16 years they've become a force to be reckoned with, recorded eight studio albums and penned more love songs to Massachusetts than the Kennedys have sent sons to Congress.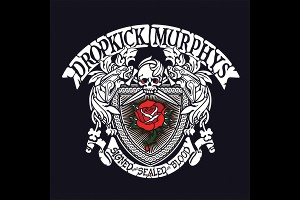 Their latest is on their own label, Born & Bred, and includes the instant holiday classic "The Season's Upon Us." The music video for the single is almost as good as "Good Will Hunting." And if you don't like that tune, you just don't like apples sans-cat YouTube fun.
Dropkick Murphys are currently on tour, so run to get your tix for the St. Patrick's Day show at Boston's House of Blues, which should be more fun than seeing the Pats win the Super Bowl at Gillette Stadium in Foxborough, Mass. With Gisele on your lap wearing a "Kiss Me, I'm Irish" tee.
Drunk tank-named rockers
Return with their eighth record.
Strong songs. Weak livers.
Living Sisters, "Run for Cover" EP
Label: Vanguard Records
Although Carrie Brownstein and company, aka Wild Flag, were often dubbed the first all-female super-group in 2010, they may not be the sole heirs to that title. The Living Sisters, a collection of XX-chromosome-carrying singers, released their first record in 2010 as well.* Based in Los Angeles, critical darlings of tastemakers like KCRW, Inara George (The Bird And The Bee), Becky Stark (Lavender Diamond) and Eleni Mandell started playing together in 2006.
Their first record includes a music video by French film director Michel Gondry ("The Eternal Sunshine Of The Spotless Mind," et al.) and the quirky, dynamic triptych may be the best thing you watch today.
The Living Sisters have added Alex Lilly for their new six-song EP. The covers recording includes intricate retro harmonies and old-school instrumentation that's definitely worth a listen.
Folk supergroup slay
"Jolene" and Funkadelic
With beauty, not blood
*Sure, they had dudes in the backing band, but they're all about the four frontwomen.