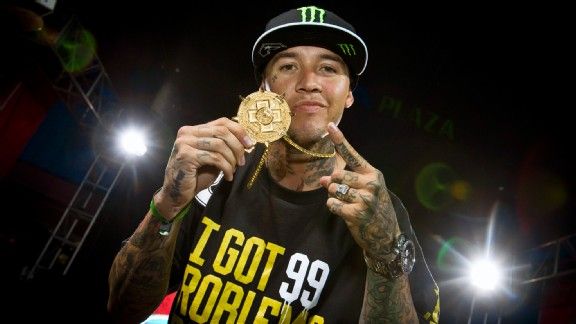 For a second consecutive year, Jeremy Stenberg, Dirt Bike Kidz and countless other companies will step up and provide a stage for amateur riders from all over the country to compete in arguably the most prestigious amateur freestyle motocross event of the year. FMX's top amateurs and pro-ams have submitted their videos to be selected and now will meet at the Lucas Oil MX Park [formerly Starwest] in Perris, Calif., to compete in the 2012 Dirt Bike Kidz Amateur FMX Contest.
"This year's DBK Pro-Am contest [formerly RAD Nationals] is the amateur event of the year," said Leah Steiger, Dirt Bike Kidz's event director. "Last year at the RAD Nationals we had 47 riders. Because of the huge response this year we had to cap the invitees to 50 or we wouldn't finish in the allotted time. We have the best up-and-coming athletes in the sport of freestyle motocross competing for a purse of over $4,000, a five-day stay at the MDP Block with personal training by Robbie Maddison, Jeremy 'Twitch' Stenberg and Larry Linkogle and a feature in Transworld MX. We are all about promoting growth in our sport, having a safe platform for them to compete, and above all having a good time. We look forward to this year's event and giving back to the sport of FMX."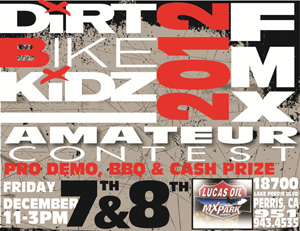 As always, the two-day event will begin Friday with practice sessions for all competing riders. Practice starts at 11 a.m. PT and runs until around 3 p.m., before a barbecue and social for the riders caps off Day 1.
Saturday kicks off nice and early with gates opening to the public at 8 a.m. For a $10 gate fee, spectators will be treated to a packed day of two-wheel action, which also includes a pro demo and autograph signing with riders such as Jimmy Fitzpatrick, Rich Kearns, Lance Coury, Bobby Lee, Wes Agee and Destin Cantrell.
The contest will begin with morning practice running from 8 to 10 a.m., followed by the qualifiers kicking off at 11 a.m. Riders will be judged on style, variety and execution of their tricks. Judges include Stenberg, Maddison, Linkogle, Nate Adams and Ronnie Renner.
Top qualifiers compete in a 10-man final where things will get serious as riders compete in their respective finals for a shot to train with the best! The podium winners in both classes will receive a cash prize, a mention in Transworld MX and five days of training at the MDP Block compound.
Food, FMX and fun for all ages will be featured at the Lucas Oil MX Park, and the following companies will be the track with all kinds of merchandise: Dirt Bike Kidz, MDP Block, Monster Energy, Famous, Etnies, Ethika, Shift, Deft Family, Transworld MX and the Chris Ackerman Foundation.
Lucas Oil MX is also allowing camping at the track for the weekend. For more information on camping contact the track directly at (951) 943-4535.