Editor's note: Tes Sewell is the sport director for Red Bull X-Fighters.
Any season of competition must come down to a final moment. This weekend, in the middle of Australia's Sydney Harbor, that moment will be reached for the 2012 Red Bull X-Fighters series. The quest all started some six months ago on the shores of the Arabian Gulf in Dubai and turned out three different winners over four events [the fifth event in Istanbul was canceled because of high winds].
At the last stop in Munich the biggest freestyle surprise in recent memory left Frenchman Thomas Pagès winning at the highest level of freestyle competition without a backflip trick in his arsenal. What Pages did bring to the party were his legendary unbound energy and three tricks that no other rider in the competition could answer. The result of his win [and knocking out tour leader Levi Sherwood in the first round] was that he comes into Sydney tied for first place with Sherwood.
The Sydney course is tighter than most, being shoehorned into a waterside space on Cockatoo Island. The island has had several histories, but most notably was a naval yard for shipbuilding and earlier a water-locked prison in Alcatraz fashion. Many old buildings and cool sites dot the island, but not many of the riders will take time to soak in its history.
The young Kiwi, Sherwood, arrived by boat Thursday morning and gave his thoughts on the event and the season he called "my best one yet."
"I'm kind of just treating it as if it's not a final event. I feel good, I have not really learned anything new, but I have been riding most days and getting comfortable on my bike, so hopefully that is enough," Sherwood said of the Sydney event and the course.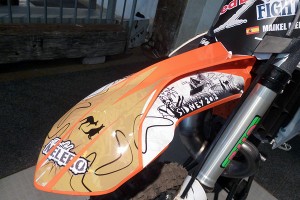 Asked if he might need new tricks in the repertoire after watching Pagès come out with so many new tricks, Sherwood said, "Yes and no."
"This year I have not pushed myself to where I have been scared. Obviously I still get nervous going out before a run, but when I think about doing body varials and stuff it is just too inconsistent," Sherwood said. "It is something where I think if I was 17 again I would be quite happy to do it, but not so much nowadays. I have learned a lot from my mistakes and I am just happy riding comfortably."
Though he may sound like freestyle's "old man" at only 21, Sherwood is the smoothest and most consistent player out there who can always throw a new twist on some old school tricks.
"I have enjoyed it the most and I have enjoyed myself while I have been doing it. It's a lot more enjoyable now," he said of his X-Fighters season.
Sherwood is the legitimate threat to finish it off the way he started. The tour is tied right now, but he breaks the tie by having two wins to Pagès' one.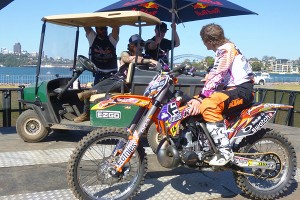 Pagès comes into Sydney quietly confident. He has been on lockdown for the past month and no one really knows what he has been practicing. He has a volt body varial, a special flip, a 540 flair and huge whips in his bag of tricks, but he has chosen not to backflip for the past few years. The real question on everyone's mind here is if Pagès is perhaps feeling vindicated by the freestyle community and therefore ready to once again unleash his flip. It is unused, but could still sit sharp in his quiver and would almost certainly be a killer weapon if added to the rest of the effective tools he can wield. The course features almost every kind of ramp squeezed into the center of the tight footprint. The real question is who can use these elements to their best advantage?
It's not a runaway race for Pagès and Sherwood though. X-Fighters defending champion Dany Torres is also within striking distance and Chilean Javier Villegas sits only 10 points behind Torres and is still not out of the hunt. Torres has been riding exceptionally well after fully recovering from his foot injury, but had problems here in Sydney last year. Villegas was hoping to come into Sydney in the top three, but suffered an injury during the semifinal round in Munich, which caused him to forfeit that round. He will be hungry for a good result in Australia.
The rest of the field is not a cast of also-rans, however, and could prove to be spoilers for this championship quest. Josh Sheehan won on home turf here last year and seems healed up and ready to double flip in front of the Aussie fans. Cameron Sinclair has a new baby girl at home and promised wife Brooke no double flips this weekend, but he does have a trick that might shake things up … he has been practicing the 540 flair and plans to unleash it Saturday afternoon. Jackson Strong, another Aussie, is also ready with his special flip and front flip. These are giant killers in a best trick contest, but can he add enough to support in a full freestyle run?
The only way onto this island is by boat and the only way to win this championship is to come out with all cannons blazing and sink the competition before they can strike back. The famous Sydney Opera house is just down the harbor from Cockatoo and on Saturday afternoon you can be sure that the fat lady will sing and only one rider will walk out victorious. I think I hear the "Ride of the Valkyries" playing across the water …