When Vicki Golden was a little girl, she says she felt bad for beating the boys. Growing up, she saw dads apply pressure, even yell, at their sons for being beaten by a girl. The now 19-year-old Californian is still beating the boys, but she no longer feels bad about it. Starting in January, in a first for the sport of Arenacross, Golden has been added to the lineup of the most successful team in arena racing history: Babbitt's Kawasaki. In doing so, she will become the first woman to compete in the AMA Arenacross Lites class.
The Murrieta, Calif.-based rider widened eyes in January when she drove over 1,000 miles with her own truck and trailer, through ice and snow, to Denver to try to become the first female to qualify for an AMA Arenacross main event. At the time, she called it her 'baby steps' program; first qualify, then finish top 10. Golden, who is a top five competitor on the AMA Women's Pro Motocross Championship, has yet to win an overall there and has been largely overshadowed by the dominance of Ashley Fiolek and Jessica Patterson. That didn't matter to Golden. "I just wanted to race," she said. And she spent the rest of the 2011 winter on the road competing with the males.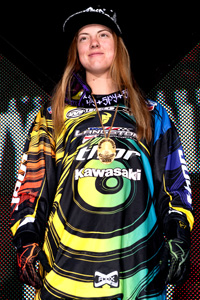 Female racers have few (read: zero) choices for professional competition in the U.S. during the winter months. She was advised that Arenacross (a smaller, tighter version of supercross) was her best option and that she should start in the Arenacross Lites, a support class that's split into East and West divisions. Riders who score 65 points in the Lites class can apply for their supercross license, a long term goal for Golden. She completed step one on her second night in Denver and step two a few weeks later in Des Moines, Iowa, mostly on her own but with some support from Resner Builders Hardware, her uncle's business that has been helping her get to the races her entire life. It was a financially taxing endeavor but the lessons and experience would pay off. In July, her Arenacross experience was evident at X Games 17 when she won the gold medal in the Moto X Racing event.
"Support or not I went out there and did it," she said. "I think I was more scared than I should have been. Arenacross taught me that I have to be consistent and be more race ready because they don't give you a lot of time to figure it out."
With the Babbitt's deal, Golden won't be driving overnight through mountain passes to get to the races and she won't stress about having a properly tuned bike.
"I have always been supportive of the entire women's motocross scene," said Babbitt's Team Manager, Denny Bartz. "We weren't able to pull [a deal] together last season, so we started earlier this time around and everything worked out. I think Vicki has a lot of courage to compete in this series."
Golden, who is currently recovering from a broken left collarbone, doesn't see herself as a pioneer. For her, it's just about racing. Her next goal is a top five finish. "I've never understood why it's so special that I go do this," she said. "I do hope it fires up some of the younger girls and inspires them."
She plans to return to the Arenacross Lites West series for round two on Jan. 13 in Topeka, Kan.