Superstorm Sandy made landfall in New Jersey on October 29, devastating entire towns along the coast line and leaving many of the state's residents without power. X Games Los Angeles 2012 BMX Park gold medalist Scotty Cranmer calls Jackson, N.J. home. Jackson is situated 15 miles inland from the Jersey Shore, and the storm left the town without power amid hundreds of downed trees and blocked roads. Cranmer, 25, tried to remain home as much as possible, but made trips out to buy gasoline for his family in South Jersey. In November of 2012, Cranmer related his experiences from the aftermath. -XGames.com
The whole Superstorm Sandy thing, a lot of it in my area was where it hit the hardest. Being 15 miles from the shoreline, most of the damage occurred from the storm surges, but I still feel the pain from everyone else. And the repercussions have been crazy. The effects of the damage, how it changed everyone's lives in a matter of a few hours.
Everything took on a very eerie feeling. Around me, it was almost like an armageddon-type feeling. Things just aren't right here, and from all of the damages happening at the shore, where so many people's lives were effected. Seeing the Seaside Boardwalk and Pier fall into the ocean, and seeing the Belmar Boardwalk disappear -- it hurts.
I started watching local people turn into survival mode. It felt like people broke out of the civilized manner that we were all accustomed to. People were sitting in three hour lines to get fuel, people were fighting over generators in Home Depot, it was scary.
I didn't want to be a part of that at all, and I tried to stay away as much as possible. I didn't use my car, and I didn't want to have to use gas. We were lucky enough that my dad pre-plans well. He actually has a camper, and he took a generator and wired it to their house, so that they could have power to sustain a normal type of living situation.
When all of the winds came and they blew all of the trees down, the power lines went down with them. So many people lost power, and so many roads were closed down. It became a free-for-all. The laws didn't matter anymore, order disappeared.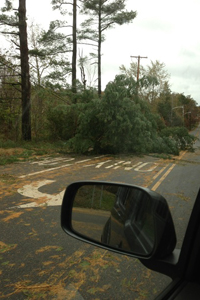 My dad just started a new job as a supervisor with New Jersey's gas and electric company, PSE&G. He thought that his new shop in Harrison, N.J. was going to flood. He ended up working that night, in a shop right next to the Passaic River. The river flooded, and the shop went underwater. Water started flooding in a few feet high, so my dad made his way out of there, otherwise he would've been stuck in waist-high floodwater. He got in his truck, and he started to float away a bit, and he made it through. He drove to the nearby soccer arena and he had to sit down and wait. He had nowhere to go because all of the roads were flooded, and he was shaken up. He had to sit down and regain his composure for a while. My dad called me right when that was happening. Then he called about thirty minutes later telling us how he's stuck in a parking lot and how he was almost washed away. Thank God that everything worked out okay.
It's been over a week, and the gas stations are finally starting to calm down. I ended up getting power on Saturday. I went five days without power. Of course, there was no heat and it was 40 degrees out, I was going from my house to my parent's house for their heat. And there was a lot of looting going down at the shore. After the devastation, people were breaking into empty houses and stealing things. It's unbelievable that something like this could happen in New Jersey. I think about the summer at the shore, and how everything has it's way and goes in order, and just like, it changed.
The human mind changes into a survival state pretty fast, and it's really scary. I realize now, just like that, one thing can completely change the way an entire community works. But there are tons of people out there who have volunteered, who are cleaning up, donating clothes, opening their doors to people in need. It's really cool to see that amid all of this, there are so many kind-hearted people out there. The dark side is scary to see, but there is light coming through.
Wanna know the craziest thing? The skatepark never lost power.