The Sword is an Austin, Texas based heavy metal band with four full-length albums under their belts. The most recent, 'Apocryphon,' released in October of 2012, possesses a unique BMX connection in the form of their drummer, Santiago "Jimmy" Vela III.
Vela formerly played drums in another Austin-based band in the early '00s named Recover. Recover's music, released by Fueled By Ramen records and later Universal imprint Strummer Recordings, was a mixture of melodic hardcore featuring dueling vocals that were shouted and harmonized. Their first full-length album, 'Rodeo and Picasso,' was released in 2001.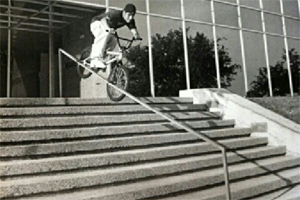 At the time, Vela also rode BMX bikes. A natural extension of riding BMX at the time was watching the popular videos of the time, starting and ending with Props Video Magazine. I handled music clearance for Props during the same time period, and was given a copy of Recover's new record, aware of the BMX connection. Soon after, Recover's music found their way into sections of Props Video Magazine, including the infamous FBM/T-1 contest held at the Intellect Skatepark outside of Austin in early 2002.
As the contest winded down and we decided to drive back into downtown Austin, Vela and friends drove by in a separate vehicle. They never stopped, he just leaned out the window and yelled "Thanks for putting Recover's music in Props!"
Eventually, Recover broke up in 2007, and Vela concentrated more of his efforts on the drums. He remained in Austin.
In 2011, after releasing three albums, The Sword's original drummer Trivett Wingo departed the band. Vela was recruited the same year to replace him on tour, and later named the permanent drummer for the band.
In early 2012, The Sword signed to a new label and began recording for their fourth album 'Apocryphon' in Baltimore, Md. with producer J. Robbins, formerly of the bands Jawbox and Burning Airlines. 'Apocryphon' debuted at number 17 on the Billboard charts and showcases the band at their very best. Paired with Robbins production talents and keen ear for balancing dual guitar tracks (possibly as a result of his time in Jawbox), The Sword's fourth album find the band fully realizing their sound and their potential.
Nowadays, with music arriving digitally, you get the ten to twelve album tracks and a tiny digital version of the album cover to display on your phone or iPod. This is not the case with 'Apocryphon.' Instead, The Sword attempted to deliver the classic LP experience digitally. To do so, they created a unique multi-media experience within the flat walls of iTunes, complete with a song visualizer, a music video for the song lyric sheets to accompany each song, links to The Sword's social media outlets, scrolling credits and more. It is without a doubt, the next best thing to sitting down with a new LP from The Sword for a full listening experience.
In late December, The Sword returned to Austin, Texas and played the final show of their 2012 tour at Emo's. Cult BMX pro Chase Hawk, a longtime fan, fellow resident of Austin, and friend of Vela's attended the show. "Santiago Vela lll for president," he said as the band finished their set.
'Apocryphon' is available from the iTunes store.
xgames.com