In mid-1988, on the verge of what was allegedly a high profile deal done through then sport agent Micki Conte, BMX flatland and ramp pro Dennis McCoy walked away from his deal with one of the most prestigious bike sponsors of the time, Haro Bicycles.
Ultimately, McCoy's deal fell through, and he was left without a bike sponsor. He lingered as a free agent for a year on a black GT Pro Freestyle Tour, and then joined the Mongoose Bicycles team as their sole team member. McCoy enjoyed a healthy relationship with Mongoose through 1997, leaving to pursue a deal with John Parker on K2. The K2 deal lasted several years, but fizzled. McCoy was left without a bike sponsor in the mid '00s, and instead of jumping into a new program, he simply rode the bikes he wanted to ride (a custom FBM with an array of Eastern, KHE and Profile components) and continued to thrive in BMX vert and park competitions.
In a 2008 interview with Mark Lewman for the Generation F Freestylin book, McCoy touched upon his dealings with Conte: "The Micki years are fun to look back on and laugh, but put it this way: I could actually afford a modest Kansas City house after a couple years of riding bikes for a living. And just pay for it... A lot of her ideas were good, but then she'd find a way to rub something wrong."
Circa 2012, Dennis McCoy is about to enter BMX Vert at X Games Los Angeles 2012. At age 45, he's one of the oldest and most respected competitors at X Games, and also the only BMX rider to compete at every summer X Games event since the start of the series in 1995. Also, as of today, Dennis McCoy has rejoined the team he once parted ways with over two decades ago.
After nearly three years of discussion, Dennis McCoy is back on Haro, the inaugural member of the Haro "Legends Team."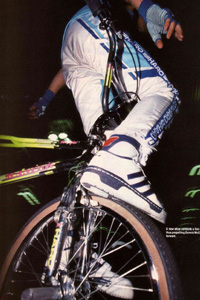 "I met Bob Haro in my hometown of Kansas City in the summer of '84", explained McCoy. "A few months later the man that started it all asked me to join his team, which was full of riders I admired. I was flown out to California to ride in the brand new AFA Masters Series, and a seemingly endless journey began. The incredible list of riders that have been part of the Haro family over the years is a virtual who's who of BMX history and includes some of my lifelong friends. I can't really put into words how cool it feels to make it back home after all these years."

Dennis will join Haro as an inaugural member of the Haro Legends Team, a newly created role that includes not only sponsorship but also an ambassadorship role and helping Haro with brand shaping projects for the future. According to Haro, the line between the Legends Team and Team Haro will be "nearly invisible," and DMC will join the Haro team at the BMX Worlds in Cologne and their upcoming trip to Japan.

McCoy joins Ryan Nyquist, Dennis Enarson, Pat Casey, Seth Klinger, Cory Nastazio and Colin Mackay on Haro. Haro made no further announcements concerning the "Legends Team," but considering that past members of Haro's lineage include Brian Blyther, Mike Dominguez, Ron Wilkerson, 'Pistol' Pete Loncarevich, Chad Degroot and Mike Noonan, one can only wonder who the next member to join the team may be.

"The current team is full of amazing riders and I look forward to continuing this journey with them for years to come," said McCoy. "Who knows where that will take us next?"

xgames.com