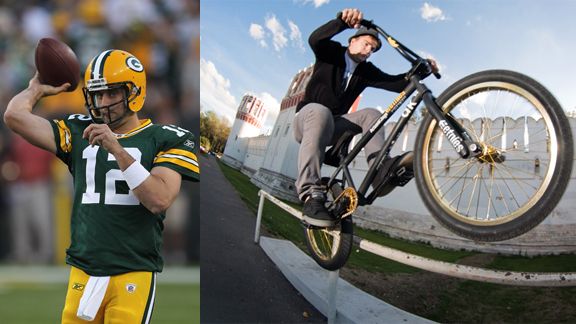 Green Bay Packers quarterback and Super Bowl XLV Most Valuable Player Aaron Rodgers was spotted wearing Brian Kachinsky's signature etnies Jameson 2 colorway in an interview on Wisconsin television Tuesday.
"Nothing like having a Super Bowl MVP running your shoe," said Kachinsky, who grew up in neighboring Neenah, Wis. and has been a lifelong fan of the Packers. "I wonder if they would grip to Lambeau Field (home of the Green Bay Packers) as good as they do to my pedals," he continued.
Kachinsky was unsure about how Rodgers obtained his signature shoe, which was released in July and features insoles adorned with images of both Neenah, Wis. and Chicago, Ill. "I think he got them from the etnies Midwest rep, but we're not sure. It's pretty crazy though," said Kachinsky.
Kachinsky also attempted to contact Rodgers, who has been starting quarterback for the Packers since 2008, via Twitter. "Heard you might be wearing my edition of the etnies BMX shoes! Hope you enjoy them," said Kachinsky to Rodgers via Twitter.
Kachinsky's signature colorway is still available from etnies.com, and although Kachinsky is currently en route to Las Vegas for Interbike, he will return home in time to catch the Packers take on the Carolina Panthers on Sunday.