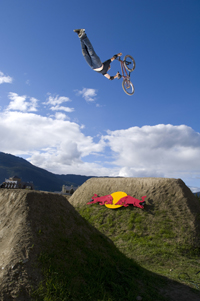 X Games 17 Big Air invite James Foster broke his leg on Saturday at Luke Parslow's Dirt Jam in Riverside, Calif. According to Foster, who continued to update his Twitter status throughout the ordeal, he over rotated a backflip double tailwhip, and he didn't know why his leg broke when he landed.
"I tossed my bike and landed on my feet. I should have just slid and been fine, somehow my leg broke," said Foster.
Foster was admitted to the hospital on Saturday and underwent surgery to have a titanium rod placed in his leg to stabilize the fibula and tibia bones, which both broke.
Foster, known as the first rider to pull the triple tailwhip on dirt, recently joined the cast of the Nitro Circus Live show, and because of his experience with bigger ramps, had also started riding MegaRamp in the past year. Foster placed third at the Woodward West MegaRamp Championship Series in June and fifth at the Nescau MegaRamp Championship series stop in Sao Paulo, Brazil earlier this month.
Foster was on the invite list for Big Air at X Games 17 later this month, but will not be able to compete following his leg break. Foster is the third Big Air invite to be injured prior to X Games 17 competition, preceded by Morgan Wade and Andy Buckworth.
"It was supposed to be a great year. Thank you for the support everyone," said Foster via Twitter.
Alternate Colton Satterfield will take Foster's spot in Big Air at X Games 17.
xgames.com