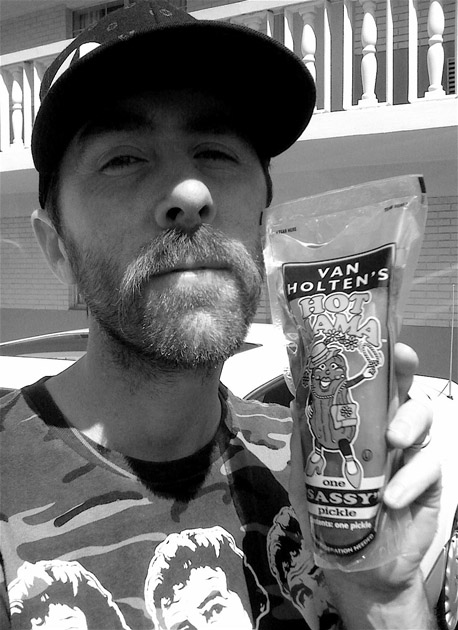 Do-It-Yourself BMX strikes again. This time, it's a new bike company from
Chad Degroot dubbed Deco BMX
. Chad's committed more than half of his life to riding, and after being put through the ringer by a handful of previous bike sponsors, he decided that he could do it better on his own. Earlier this week, Chad unveiled the Deco name and product samples to the BMX public. And earlier today, I called him up and asked for the inside scoop. Here's Deco BMX according to Chad Degroot.
What made you want to start Deco as a bike company?
Being around bike companies for so long. I mean, I've been riding bikes for 24 years, and seeing how they operate, their hits and misses. In a sense, I was getting a little frustrated with how they couldn't change stuff or make it better. My last straw was the last company I rode for, just all the empty promises. I knew that I could do it myself. I've learned enough and I know exactly what I like. More or less, the satisfaction of saying it's mine and not having to answer to anyone about it. That's it in a nutshell.

More or less, the satisfaction of saying it's mine and not having to answer to anyone about it. That's it in a nutshell.
--Chad Degroot
Are you putting together a team?
I had a few guys picked. I stress out a little bit, cause I wanna do a legit team and move ahead. And then I realized that I was jumping the gun. It will just happen, so I'm kinda in slow-mo at the moment. I really like certain people's riding styles that will fit the team, but they also have to have the personality. Finding the right person is hard, but it's gonna happen. And whoever ends up on the team, hopefully they're a lifer. It sounds selfish to just say it's myself right now, but that's how it is.
What about Dave Freimuth?
Any of those guys, I would love it. If they want anything, they can have it. I don't even know if Dave would want that status though. Some guys like that are still killing it, but don't have any sponsors. You don't necessarily need sponsors, but if I can make some of my friends happy, it would be cool.
Can you tell me about Deco's products?
I had an idea for removable mounts on forks. It's focused more on flatland/street/skatepark riding. I wanted steeper forks, which have a 28mm rake. I did the removable tabs, for people that pop their front brakes on and off. I know some people would love to ride front brakes some days and not on others. I'm going to come up with two different versions, with or without the tabs. The bars are a four-piece style and look, but they've got a really good feel, similar to the Bob Scerbo Animal bars. I pretty much fell in love with those bars, but I didn't want to copy the four-piece style like a lot of people are doing. Animal got it locked down, and hands down, those are the best bars, but the feel is similar, and the look of them is unique. As far as frames go, I wanted an updated frame with built-in chain tensioners, removable tabs and good geometry. I had a Deco logo brazed onto the frame, so you don't need stickers. It will still come with a sticker pack.

What's the geometry of the frame?
It's 74.5 head tube angle, 71 seat tube. The back end is 13.5" in the middle, so you can go a little smaller. Top tubes are 20", 20.5" and 21". We're also working on a smaller version, as well as a flatland version. I don't want crazy bends or goofy looking flat stuff. That's my secondary focus after everything gets rolling.
Is it US made?
It's Taiwan. Taiwan factories are so phenomenal, and you can't beat the prices. I don't wanna come out with the highest priced frame made in the US. Everything they do in Taiwan is amazing. I'm pretty satisfied with our agent and how things are proceeding. And I am going over there when production starts to make sure we don't get twisted bars or frames.
Is Deco going to be at Interbike?
Yeah, I'll be in the Underground Distribution booth.
Anything you wanna add?
Come by. We're gonna have two hot chicks passing out buttons, stickers and free Deco trucker hats. I'll be the dude with no shirt and a fancy mustache.


xgames.com