Shayne Pospisil is an East Coast backcountry powerhouse straight from the Jersey Shore. Pospisil bases himself out of Mammoth, and travels the world banging out video parts, most recently for People's movie "Pretty Wise," but his roots will always run deep back East.
Pospisil was on the Jersey Shore when Sandy hit. He and his family rode out the worst of it and immediately sprung into action afterwards to start rebuilding their community. We spoke with him recently to find out more about the true impact of the storm on his community and the tenacity of East Coasters who are fighting to return to normalcy in the wake of disaster.
ESPN: So you actually grew up on the Jersey Shore?
Shane Pospisil: Yeah, I grew up about five minutes from the beach in Manasquan, so I grew up surfing the Jersey Shore. I moved out to California like eight years ago, but I still go home every summer.
Do you get all bronzed up and chiseled like on the TV show?
(Laughs) I get my bronze on, but I'm definitely not hanging out in Seaside with Snooki.
Was your area hit pretty hard by the storm?
Yeah, we were hit really hard. I have a bunch of friends who live right by the beach and all of their houses got destroyed.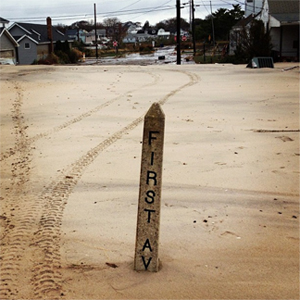 During the storm I was actually at my brother's winter rental about ten blocks from the beach and we watched the water coming in through the door. We ended up leaving at about three in the morning once we realized it was pretty much ruined.
My Dad owns a construction company, so all my buddies were pitching in and helping him dig out houses on the beach and clean up as much as possible before this Nor'easter hit.
We got a big crew and started shoveling sand out of basements and trying to repair sheet rock and flooring. We are just trying to get everything back to normal. There is so much to do, there's still no power -- it was like the Apocalypse.
It sounds like the community really rallied together.
It was definitely awesome to see everyone out there working together. There are a bunch of donation sites set up, and all of the schools and churches are trying to get gear to everybody. Everyone is really helping out and just trying to keep everyone sane, but people are starting to lose it a little bit.
I flew back to California for Mammoth's opening, but I talked to my Mom and Dad and they were just praying the power comes back. I think it's been hard to not be able to do simple things like watch the news and know what's going on in the world.
Was it hard to leave?
Yeah, for sure. I booked my flight weeks in advance. Even though I knew there was a storm coming I had no idea it would be this bad.
"

Please get involved. It's going to take billions of dollars and lots of work to get everything and everyone back on track.

"
I changed it to leave a little later then I had originally planned so I could help out, but I had sponsor obligations to come out to California and I had to take care of that. I have been talking to my family every day though and trying to help keep them positive.
A lot of East Coast readers read this site. Any words you want to send out to them?
Just stay strong and positive, and know that things will get better. Everyone has to stick together in our communities. We have some amazing towns back East and it's one the best places to come visit in the summer. Hopefully everyone will keep coming and all of the tourism will come back so we can continue to flourish.
I just hope it gets back to normal soon. Also, I have been working with my sponsors to send donations to the East Coast.
Please get involved. It's going to take billions of dollars and lots of work to get everything and everyone back on track.