Skate fans and art enthusiasts will have the chance to score big and help disadvantaged kids by bidding on pieces from the third-annual Board Rescue charity art-show series, up for auction on eBay starting today under the seller ID boardrescue. Over the weekend, artist-modified decks were on display at Santa Cruz, Calif., skateboard shop The Boardroom, where limited-edition Jimbo Phillips T-shirts and posters were for sale.
The online auction will feature a total of 35 pieces, with three to four new items posted every day; each item will have a seven-day bid window. All sales benefit the 501(c)(3) nonprofit foundation, which sources and provides skateboarding equipment to low-income and at-risk children.
"This year's show was unbelievable, with many of the artists on hand to greet the crowd, sign autographs, meet with the media and help us raise awareness about our efforts at Board Rescue," says Gary Holl, president and founder of Board Rescue. "The proceeds from this year's auction will allow us to work with more youth organizations that see skateboarding as a viable way to boost children's self-confidence."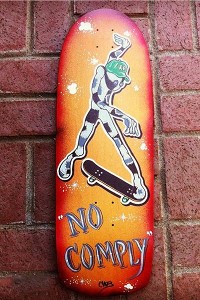 The 2012 collection features original artwork by legendary skateboarders including Duane Peters, Jason Adams, Jason Jessee and Steve Caballero, who explains, "My involvement with Board Rescue is through my old skate buddy from Winchester Skatepark named Judi Oyama, the cofounder of this nonprofit organization, who knew that I did artwork and wanted to know if I'd want to get involved with helping underprivileged kids without skateboards. I surely couldn't turn down an opportunity to give back to an industry and scene that's given me so much over the years! This is my third year doing this group art-show collective and [I] can't wait for next year and the year afterwards as well. I'm honored to be a part of this amazing benefit."
Also contributing to the auction were illustrators and skate photographers such as Dave Swift and Bryce Kanights, who's stoked to be part of such an inspiring event. "To be able to contribute artwork for a charitable cause such as Board Rescue is one of the best feelings out there," says Kanights. "Just knowing that we can help to empower those less fortunate than us through skateboarding is truly rewarding."
Board Rescue is providing an opportunity for collectors to get into an online bidding war for a skateboard and feel completely justified, as all profits from the fundraiser go directly to broadening kids' horizons and building their self-esteem through skateboarding. Visit Board Rescue's Facebook page for updates on when each new piece will be up for auction, then pick your favorite, put your money down and pat yourself on the back for doing a good deed.