In 2011, Javier Villegas surprised the industry by winning the FIM World Championship with strong, consistent rides in the last half of the season. With all the momentum that comes with winning a championship, 2012 looked to be the year Villegas would finally get his shot at the full Red Bull X-Fighters tour and what many dub as the biggest action sports event of the year, X Games.
The industry, fans, and riders knew Villegas was on his way to being a major player at the top level of the sport. But no one could have guessed the instant success the Chilean rider would have riding alongside what is arguably the best competition in the world.
Fast forward to today … the same consisitency that won him an FIM title has kept him in a season-long points battle for the X-Fighters World Tour crown as Saturday's season finale in Sydney, Australia, draws nearer. Not to mention a Freestyle bronze medal in his first try at this year's X Games; pretty good for a guy who was being given a "shot."
ESPN.com caught up with Villegas to reflect on this past year and talk about what the rest of 2012 might hold for him.
ESPN.com: Javier, first off … congratulations on your bronze medal at X Games back in June.
Villegas: Thanks, definitely a great achievement in my career, years of hard work finally paying off.
You have won some pretty big contests and even a world championship, but where does your bronze medal at X Games rank in your career?
It's hard to say, all of my titles mean so much to me because all of them were goals I set for my career.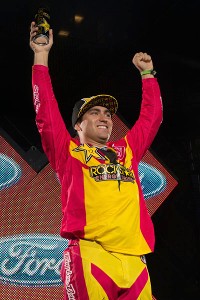 Winning X Pilots in Tijuana in 2010 was one of my goals, making a podium at NOTJ was a big goal on my career since 2001, and winning a stop of Night Of The Jumps was right next to that. But my top three achievements are the 2011 FIM Title, the Red Bull X-Fighters podium and my X Games medal. I still have so many other goals to achieve that I don't want to rely or stay stuck on things I've already done. I am always looking ahead to the next jump and trainning harder.
We spoke last year right after you won in Lativa at the Night Of The Jumps, since then you have became a serious contender on any continent, at any level. Did you make a serious change to your program or is this just the result of years of your hard work finally paying off?
I did do some serious changes to my training program, but that was before Latvia. I think that for years prior … I was kind of doing it wrong. The worst part of its was, all along I thought I was doing it right. After my first Night Of The Jumps podium, I realized that if I wanted to be on the podium every time, I had to work smart and I started preparing myself better. So I have to say that even though it's the result of years of hard work I've also bettered my program.
It hasn't all been fun though, you had an injured shoulder in Glen Helen [second X-Fighters stop]. Under the circumstances, was fourth like a win coming out of there in one piece?
Well, I felt I had a great chance to win at Glen Helen, and I was having so much fun on that course. I was feeling so confident that I forgot to take it easy and I abused my abilities. Getting that fourth place was a complete surprise, because I was riding in pain and was having a hard time focusing on my run. By the time I was up against [Todd] Potter, I didn't even have a run on my head mainly because I wasn't expecting to make it that far. And it was a victory indeed, because I proved to myself I could ride at the top of my riding right after being injured. I just had to trust my stuff.
All we heard was how Todd Potter and Wes Agee loved Glen Helen. But I was wondering how a guy like you who rides mostly the European indoor ramp set-up thought of the course?
I loved it, maybe because I hardly get to ride anything like that, and it was really challenging. It put my abilities to the test and I was happy to see the outcome! The wall ride, step up, quarterpipe … all of it, was fun! But you had to be a very well-rounded rider to make it happen on that course and until my injury I was having a great day doing that, I can't wait to have another one similar to that.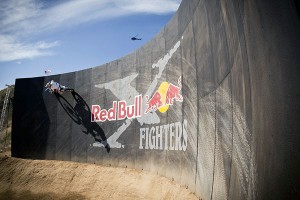 Seems like you just like to ride … with that being said, you probably liked the X Games course.
Yeah … I like pretty much every place where I go ride my bike, it wasn't my favorite course but I still enjoyed it.
Literally days before X, Rockstar Energy announced they had signed you. Was that for the X Games and X-Fighters or are you a Rockstar athlete from here on out?
My agent and I had been working on that deal since the beginning of the year, Rockstar has a great list of riders so I have to prove myself and show them why they should sponsor me. Putting in good results at every event was helping, but what really closed the deal was my invite to X Games and from now on I'll be a Rockstar rider.
With the final stop of the Red Bull X-Fighters series just around the corner in Australia, you trail Levi Sherwood and Tom Pagès by 50 points in the tour standings. What is the game plan going in?
I'm gonna keep my same plan that I've been using since I started with the Night Of The Jumps series, do not compete against them, just compete against myself. Every time I compete to impress the judges I don't have the outcome I want, but if I focus on impressing myself I get excellent results, so I'm gonna focus on riding the best I can and let the competition sort itself out.
After the series is over, are you going back to ride the remainder of the IFMXF series?
Yeah, I want to go back to Night Of The Jumps and show them how much I've improved over these last last months and hopefully it's good enough to win all of what's left of the series.
Well, congratulations on all your success and good luck chasing down that X-Fighters title.
Thanks, and don't forget to follow me on my fan page facebook.com/jvairx and Twitter @JVAirX.