While some snowboard-crew talent pools tend to be shallow, Think Thank's runs deep like the mighty Pacific. Jesse Burtner's movies have become synonymous with progression and undiscovered talent: From Jess Kimura to Scotty Stevens, Think Thank has been the springboard for so many illustrious careers that every snowboard fan should send them a nice thank you note.
Think Thank focuses on the creative over the treacherous, and even though many of the cast members are gnarly, Burtner has an innate ability to find youngsters that have a little extra in the "something special" category.
This year is no different. For this year's release "Mind The Video Man" Burtner has hand picked some of the freshest talent on the market. We decided to get the man himself to introduce the Think Thank class of 2012. The following words are Burtner's: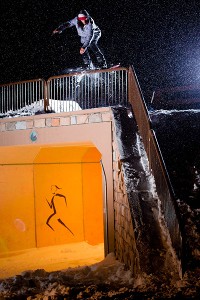 Brandon Hammid: Brandon is from Salt Lake City, but I first met him up in Alaska when he was stationed up in Fairbanks with the Army. He got out of the Army and stayed up in Alaska and that's when he started snowboarding. He got sort of a late start, but he got really good really quick.

He's not really new to the game, but I feel like he's been sort of underground just building up to this year. He came out with us a few times last year and his footage was sick, so this year we decided to do a full part and he just dove in. Hammid has cool style, and that's something we always look for -- people who have a message unique to themselves.


Kyle Lopiccolo: Kyle is from Mt. High, and I mean really from Mt. High -- he lives at the bottom of the mountain. What I have always liked about Kyle is that he does crazy grabs. He's coming up in the industry right now and all he cares about is doing grabs and tweaking them out -- that's awesome.

He's got a really good mix of powder, weird jibbing, and tweaking grabs at the Holy Bowly. He does rad methods and Japans in all sort of different ways.


Brandon Reis: I've known Brandon forever. He's basically Sam Hulbert's life partner and I met both of those guys at High Cascade. Ever since Sam was brought in Brandon was supposed to be filming too, but it didn't work out with sponsors or whatever.

I always knew he could film a really good part, and I think this is going to be his breakout part -- it's really going to make the industry take notice of him. It's probably my favorite in the video. He's the funniest dude and he's not trying to be anything but himself. He's just a dorky kid who shreds and I love that.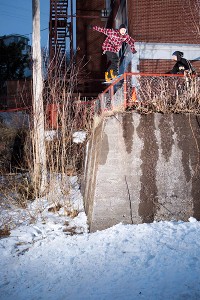 Nial Romanek: Nial came totally out of the blue for me. I met him at Downtown Throwdown and then saw a clip of him from Boreal and it was so fresh. I just took a chance on him. He is a technical jib guy and his riding just keeps expanding. He's riding some backcountry but he's pushing the jib thing for sure. He's a purist and has mature trick selection.
Ryan Paul: Ryan wanted to be in the movie for the last couple of years and it just never worked out with sponsors, but I've always wanted to film with him and have him involved. He's not really new to the game either, but I felt like I could offer something fresh and different then what he was used to, and he is just one hundred percent natural talent. I think people are going to be really stoked on his part. He has a good attitude so he's someone I always want to go ride with.
Jaeger Bailey: Jaeger is from Washington and kind of came along with Kyle, he's got an insane amount of energy and is a shredder. I was talking to Bataleon about getting Lopiccolo in the movie and said 'Let's give both of these guys a chance and see how it goes," and they both really came through.
Jaeger is turning into an insane freestyle force on a snowboard -- both his Superpark and High Cascade footage has been insane. He's progressing exponentially, every day he's better and his stuff in the movie is insane.
Curtis Woodman: Curtis obviously isn't new to snowboarding, but is new to the video. He's just Curtis Woodman and I would have filmed with him just as a fan of his snowboarding. He was the first guy I ever saw do legit tail presses a long time ago.
His story is really interesting he has sort of had highs and lows in his career and now that he's back I want to be there for him. He never lost his love for snowboarding and he's an important part of the last decade plus. He's all about surf the Earth, seek and destroy style.