Natalya Platonova, Will Steevenson and Dave Compton proved their bravery to Travis Pastrana and won Red Bull's "Challenge Travis" contest in the United Kingdom.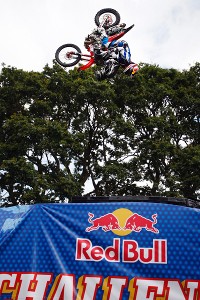 Their reward now will be to perform a Nitro Circus challenge at one of the three venues on the England leg of the "Nitro Circus Live" tour in December.
Entrants, who couldn't be more than 5-feet, 10-inches tall or 12 stones [168 pounds], had to explain why they deserved to be chosen -- and sign the necessary waivers and disclaimers -- upon entering. Travis Pastrana and his team chose six finalists who got VIP treatment Aug. 25 at the Red Bull Pro Nationals motocross event in Hawkstone Park in Shropshire, England. After a series of games, Platonova, Steevenson and Compton earned the chance to take part in the final challenge during one of the "Nitro Circus Live" stops in England.
FMX star Josh Sheehan helped out by giving Platonova a chance to ride along for a tandem backflip at Hawkestone Park [see above video].
Residents in the United Kingdom and Ireland can still submit a challenge to Pastrana online, and he might choose it to be performed at one of the "Nitro Circus Live" shows in the U.K. Nitro Circus Live's 11-city European tour begins Nov. 18 in Stockholm and concludes with shows Dec. 3 in London, Dec. 4 in Manchester, England, and Dec. 5 in Birmingham, England.