Murs and Fashawn, two rappers born and raised in Lynwood and Fresno, Calif., have teamed up to release the LP entitled, "This Generation," which drops September 25th, on Duck Down Records. Murs is a founding member of the group Living Legends and he also created the Paid Dues Music Festival. Collaborations aren't new to him: he's released three albums with producer 9th Wonder and released another three with Slug of Atmosphere, as Felt. In 2009 Fashawn released his debut album "Boy Meets World," and in 2010 appeared on the cover of XXL Magazine as a member of their prestigious "Freshman 10." These rappers from different generations knew of each other's careers but never worked together until this project. What most people don't know though is that they both are skateboarders.
While shooting the video for "This Generation," they would skate between takes and ESPN.com got them to talk about their love for the toy machine, the eras they grew up skating in and their views on Lil Wayne's foray into skateboarding.
ESPN.com: What was it like when you started skating?
Murs: I started skating in 1986. Skateboarding took the hood by storm. I was living in Lynwood, California. I had a Nash that my mom bought from Big 5... my brother had a Variflex. At the Lakewood Mall there was a snow and ski store and they carried real boards. I wanted a Santa Cruz spike -- I don't think they have them in circulation anymore. Mine had some OJ II's and black Tracker trucks. I got good grades in the third grade and I was promised a reward so I got that board. It had half baby blue grip tape and half black grip tape, with the strip cut out towards the tail so you could read the Santa Cruz logo. I had my 180's down. I was the coolest. You couldn't tell me anything.
On the bottom of my board I had rails. Back then you wouldn't put nose guards or tail guards on your board cause that was [considered] wack. When you really wanted to show off, you put your rail in the center of your board to do slides. They weren't called boardslides then they were called railslides because you had rails. There were no nollies back then, it was just street skating.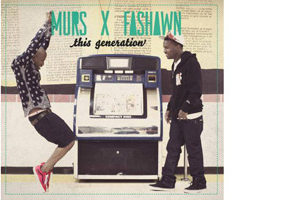 In Lynwood the cops used to kick us out of Bateman Hall and the Lynwood Library across the street, yet right on that corner now is a skatepark. I drove by there one day and got out and made a kid give me his board so I could skate. I was determined to skate that park. I told this kid, "You may not know it but the reason why you have this park is because we used to get kicked out for street skating right in this same spot. You may not know it but just give me your board so I can skate this bowl and go home."
Fashawn you said that skateboarding saved your life. Talk about that and how you got your first board.
Fashawn: I would definitely say that skateboarding saved my life. After skating so hard all day from the moment you wake up to when you go to sleep, you're too exhausted to sell crack or smoke crack or do anything else. So that basically prevented me from being involved in things that would have landed me in the "big house." For me it's synonymous to rap. Skateboarding kept me outside, but when it came to writing rhymes I had to be in my room or somewhere away from the madness.
I got my first board when I was living in Fresno, California. I was about 9 years old and this marks the transition from my video game habit to my skateboarding habit. We didn't have much money at the time. I traded in my Sega game system and every game that I had and I bought my skateboard piece by piece. That's how I started. I had to pawn everything to get a board. The first trick I learned was a kickflip and that's the only trick I can't do now. Skateboarding is great. It's liberating. I'll forever do it.
As a kid did you spend your entire days skating?
Murs: Yes, pretty much I skated all day. I was living in Lynwood and a lot of people don't know this, but a lot of gang bangers skated hard. In the black community everything is a fad so skateboarding soon faded out. My family moved to the valley because things got crazy and I lived there for three or four years. Over there they were still really into skating, and I was saying, "Oh you guys still do this? This is still cool?" At the time I had a Real Skateboards Jim Thiebaud deck with the graphic featuring the KKK man strung up on a noose. Where I was skating, there were neo-nazis, so there were people there who straight up didn't like me at the skate spot because I was black.
We used to go to LA to skate this park called Transitions, which I think later turned into the World park. This was in 89-90 and the guys from New Deal would always be there. I was also skating everyday in front of my house. I started skating vert and I started getting good. I wasn't good at street. I was skating 6-foot and 8-foot half pipes. I was learning axle stalls and I was just learning disasters when that all came to an end. My mom would take us one weekend and then one of my white friend's moms would take us the next weekend. My mother would say I couldn't go with them because I just went the last weekend. That's the logic of some black parents, "You just went last week, so why do you need to go this week?" and I would say, "Because that's how you get better!"
What made you stop skating as much?
Murs: All my friends were learning tricks and I would come the week after next and they already learned disasters and were moving on to airs. I wouldn't even want to skate because I felt lame so I would just watch them. We were all 10 and 11 years old and they were going every weekend and getting better. Not being able to go every weekend, I'd miss out on when an older dude might be there and teach them something. Constantly being behind got me bummed out so that's when I got into rap music and selling drugs. My mom would haggle me about being out skating and one day one of my friends got an 80 thousand dollar contract from skating, and I rubbed it in her face that it could have been me, instead. I said, "If you had let me skate I wouldn't be running around here cursing on a microphone."
Fashawn why do you like playing your Twitter followers in games of S.K.A.T.E. before your concerts?
Murs: You mean slaying his followers in games of S.K.A.T.E before his concerts?
Fashawn: I do that because it's fun. Sometimes I show up to a city and I might not know anyone. Sometimes I show up to a city and they might not know me, so it's a good way to connect with the people that I'm speaking for. It's just something fun. And if they do beat me, which they never do, I give them free tickets to come enjoy my show or kick it backstage and get all-access, you know? I feel like more artists should do that. Any artist who claims they skate, why not show us?
What do you guys think about Lil Wayne taking a break from rapping to devote himself entirely to skateboarding?
Fashawn: I think that's cool. It gives us a chance to steal some of his fans.
Murs: I think he was a child star that didn't get to enjoy his childhood. A lot of kids in the hood have dire circumstances, so seeing him skateboarding opens that up to everybody. He's been grinding for so long. The guy coined the term, "Bling-Bling" when he was 11. Now he's a skater, so I think it's cool. It's genuine. He's not doing it to get more fans. It's not like he's going to get more fans just because he's skateboarding. He's into it. I think it's good when you get "bitten by the bug" because that's how I was with skating. I had all the magazines and the posters on my wall. I had all the CCS catalogs. To this day if I see Mike Vallely I'm going to stop what I'm doing to say, "What's up?" to him.
Fashawn: As long as he's sincere about it and he's actually skating hard everyday I can't be mad at Weezy, man.
Murs: And he's enjoying himself. I still can't do a kickflip and I'm not dropping in on anything over 8 feet. I'm black... when you look down from a ramp so high up, it just goes in and that's scary. That's how I felt at Bob Burnquist's house. I felt really honored to be there and I looked at the Mega Ramp and I simply said, "Nope! Not skating this."
What was it like being over at Bob Burnquist's house?
Murs: It was cool. It was a while ago. He was married to a different woman, a skater girl. He had this huge ramp in the backyard. My song "Transitions az A Ridah," which was inspired by a Tupac song -- that allowed me to meet Bob Burnquist and Gershon Mosely. I was hanging out with James Craig, Gideon Choi and Ronnie Creager -- all the Blind guys.
It was random. I was just hanging out with some friends in the OC... I hit Bob up and he was like, "Of course you can come over." My friends and I didn't plan to skate anything but we woke him up and he let us in gladly. I was just in awe with what I saw. He had an organic farm and a 12-foot ramp and a bowl. I said to him, "You are living my dream." I call him, "Bob the god."
Fashawn, what skater's homes have you been to?
Fashawn: Danny Mayer's because he is my homie. He skates vert though but we skate in the streets together. Danny's the only guy I got to hang out with on a homie level because we actually worked together. He produces beats on the low. My passion is skateboarding and my job is rapping. His passion is producing and his job is skateboarding.
He's a crate-digger isn't he?
Fashawn: Yeah, he's got an extensive vinyl collection.
Murs: Didn't he have some X-rated records too?
Fashawn: Yeah he's got Jimi Hendrix's "Electric Ladyland," the European version with the naked chicks all over it. But I got a lot of homies I skate with like Manny Santiago, PLG, Torey Pudwill and the whole Grizzly Griptape gang. I got to kick it with Nyjah Huston recently. I got more houses to go to. I got more backyard ramps to skate.
Murs: And when you go, tell them to be cooler. I don't understand why skaters love thug rap so much. I used to love that it would be in the videos but when I grew up it was all Hessian. The Plan B video came out and they had a Souls of Mischief song I never heard before. That blew me away.