The Coastal Edge East Coast Surfing Championships presented by Vans got started on Monday with the Vans Junior Pro and eventually the Pro got going on Tuesday. The surf was forecasted to be somewhere between dismal and depressing, but somehow this event always gets some magical swell -- not magical in the Outer Banks-style empty barrels sense, but the 2-foot sets in varying degrees of cleanliness were a miracle considering the expectations.
After getting through half of round two Thursday, event directors pulled the plug. Aaron "Gorkin" Cormican, who has owned this event before it was ASP sanctioned is out, as are Parker Coffin, Asher Nolan and Timmy Reyes.
Of course, you've got your top contenders. Jack Freestone did no less than five no-handed air-reverses with his hair staying perfect the whole time today. The top heat score right now is owned by Granger Larson who forgot to enter and had to surf as a wildcard. He busted out a nine for a 16.23 total on Tuesday. Kai Barger looked light in the gutless stuff as well.
But how about Rex Flodstrom? Where have you heard that name? Flodstrom was the surfer who was arrested Jan. 17 in Lake Michigan.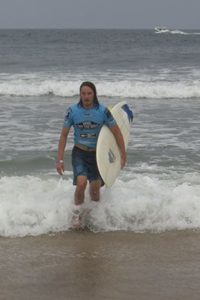 He drew international attention when he reached a deal in court in connection with allegedly violating three Chicago Park District ordinances -- for surfing. He even garnered support from Kelly Slater. And there he was, the only surfer in this event from Chicago, in Round 1, heat 24 with Huntington's Christian Seanz, Brett Barley and Jeff Meyers, both of the Outer Banks.
In actuality, the 40-year-old artist spent some time living in Los Angeles and San Francisco, surfing a lot of the California coast. He competed in the Ultimate Boarder surf/skate/snow event back in 2009 and the Rincon Invitational. But that was about it. And he figured for his first ASP event, why not get into a six star?
"I tried to get into the Vans Pier Classic at Huntington. But the representative told me I was 70th on the alternate list. Typically, there are about 10 people who don't show. For the ECSC, I was sixth on the alternate list," Flodstrom said. "A couple weeks ago, they told me I was third. I figured I had a pretty good chance of getting in, so I came out."
Flodstrom decided to make a little road trip out, stopping to watch a friend skate the Dew Tour in Ocean City, Md., and then surfing the Outer Banks. He did not advance out of Round 1. But that seems understandable, considering he lives in Chicago.
"We had a couple good days on the lake this summer. We actually had better surf in Chicago two weeks ago than what I surfed in Virginia Beach," he said. "This was a pretty small swell. It was dropping and I was the last heat of the day."
Flodstrom also told me that after the media attention, the park district is going to make surfing legal on all beaches.
One of the better quotes I saw come out of this so far was Jeff Lukasik of San Clemente, Calif., after posting an 8.5 on Tuesday. Lukasik has been hitting the road pretty hard this year, doing as many events as he can. But that tends to get a little expensive when you don't have one of the major surf companies footing the bill.
"It's nice to make a little bit of money and help pay my dad back for some of the debt that I've gone into with him," Lukasik said. "It felt good to get a few results down in Latin America and it got me fired up to do a few more events."
Event organizers will reconvene Friday morning to assess the conditions. Surfline is calling for a swell from Tropical Storm Isaac to start filling in on Saturday. The storm will likely be tucked behind Florida and the Caribbean Islands by then, but fetch from its time in the Atlantic should kick things back up to a fun 2- to 3-foot. It seems there is also a local low-pressure system that could help things a bit while keeping the wind onshore. But they say onshore is the new offshore …
The event concludes Sunday before any swell from Tropical Storm Joyce arrives.