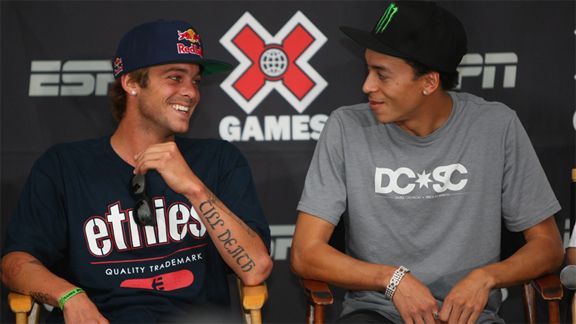 How would you like to spend the day on a Street League course while getting skate lessons from SLS contestants Nyjah Huston and Ryan Sheckler?
Thanks to Street League and STOKED -- a nonprofit founded by Steve Larosiliere and X Games announcer Sal Masekela and dedicated to providing action sports opportunities to disadvantaged urban youth -- 25 kids from the New York and New Jersey area will be able to do just that at the Prudential Center in Newark, N.J. two days before the arena opens its doors to the Street League Championship this coming Sunday.
Co-hosted by GardenSK8 -- a large indoor skate park in Pine Hills, N.J., with a number of youth outreach programs -- the skate clinic will provide safety equipment, skateboards and a space for the 25 underserved skaters to sample the freshly-poured California Skateparks-designed plaza and, of course, spend quality time with superstars Sheckler and Huston.
Whether the participants are beginning, intermediate or advanced skaters surely Nyjah Huston will have something to teach them about grace under pressure, perseverance and kickflip backside tailslides.
According to its website, STOKED has mentored more than 2,100 children since 2005 and provided more than 32,000 hours of action sports instruction. Paul Rodriguez, who won X Games Gold and Street League's third stop in Glendale, Ariz. this summer, has been another notable advocate for the philanthropic 501(c)(3). Its other charitable activities include surf lessons at Rockaway Beach in New York City and lessons in building skateboards from scratch without the use of power tools. Nike and Quiksilver have been among its lead corporate sponsors.
"[A]nything that has pure motives and gives back is something I'm into," Rodriguez told Transworld Business in 2010, when asked about his belief in the philanthropic organization.
The clinic begins Friday, August 24 at 12:00 p.m. and Ryan Sheckler and Nyjah Huston arrive at 1:00 p.m.