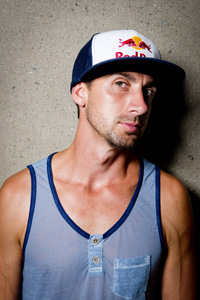 Last week, Odyssey/Flatware pro Terry Adams received an unexpected invitation in the mail. It read, "You are cordially invited to compete in the Dew Tour Flatland Contest in Ocean City, Maryland August 16-19."
Adams, 29, a longtime pro flatland rider with two NORA (Number one rider award) Cup titles, an X Games gold medal, and endorsement deals with brands ranging from fried chicken (Raising Cane's) to underwear (Freegun), has never competed at a Dew Tour. Since the inception of the Dew Tour in 2005, flatland has not been included as a BMX discipline.
As the Dew Tour continued through the years, flatland riders lobbied Dew Tour organizers to include the event, and now, with new changes to the Dew Tour for 2012, including a shift to three events themed beach (Ocean City, Md.), city (San Francisco, Calif.) and mountain (Breckenridge, Colo.), flatland was given the go-ahead for Ocean City.
"I am stoked because flatland definitely deserves to be in the mix," said Adams. "Flatland is just as progressive as the other forms of BMX, so it's great to have the Dew Tour backing what we do."
The Dew Tour's first flatland contest will feature four professional riders, including Adams, Chicago's Matt Wilhelm, and Matthias Dandois and Alex Jumelin of France, in a battle format-style contest. A winner will be chosen, but Adams approaches the contest less a competitor and more an ambassador of flatland. "Our main goal is to put on a great show for the crowd and for the folks at Dew Tour to keep flatland in the mix," he says.
The inclusion of flatland in a multi-discipline BMX competition is somewhat of a new concept in BMX. Decades ago, flatland riding at BMX competitions was one of the main draws alongside ramp riding. As the different disciplines progressed, flatland continued to be included at events such as the X Games, the Backyard Jam and the Metro Jam. But ultimately, flatland was dropped from most multi-discipline BMX events.
Through the efforts of the Am Flatland Circuit and events in Europe and Japan, flatland contests have endured for the past several years. And along the way, changes in the techniques of street riding (including more technical lines that include flatland moves such as footjam tailwhips and hang fives), has ignited new interest in flatland from BMXers outside of flatland.
While Terry Adams thinks that the time away was necessary, he welcomes flatland being included at the Dew Tour. "After flatland was dropped from the X Games, we had to prove that we were strong enough to stand on our own," says Adams. "Now though, it's great to be showcased next to the other disciplines of BMX because that's where we belong."
Later this week, flatland will make its Dew Tour debut alongside BMX park, dirt, vert and additional new Dew Tour discipline Mega 2.0.