For freestyle BMX riders in the Northeast corner of America, the King of Flatland (KOF) Series, which began in Manchester, N.H. in 1987, was a big deal. What began as another local contest series in New England, soon evolved into the glue that held the scene together. From 1987 to 1993, the Cote family brought riders from all over the world to New Hampshire. The series helped shape modern day flatland, and spawned legendary riders like former Hutch Factory Team rider Darren Pelio, and even modern-day X Games rider Kevin Robinson. It helped create a close-knit scene of flatland riders in the northeast, one that still exists today, and created countless lasting friendships for many who have put down their bicycles. Many of the riders from the original series, like Jim Cavanaugh, Brian Chapman and Sean Maher continue to progress their flatland riding to this day.
At the same time KOF was growing, many local riding scenes around the country began producing their own 'zines, do it yourself Xeroxed publications that were the blogs of yesteryear, and the pipeline between small-town, unknown riders, and the rest of their comrades around the globe. The major magazines were all based in Southern California, and their trips to cover riders in far-off areas like New England were few and far between. While magazines like Freestylin' did make a trip east for a KOF event in 1988, the progression was happening at events every other month, and someone had to document it.
Fortunately for the New England scene, Kieran Chapman stepped up, and has been documenting the New England riding scene ever since. Kieran created Radazine, which eventually became Wire, and later eWire, one of the world's first BMX content web sites on the Internet. Radazine/Wire became synonymous with KOF, and you could expect that at every event Kieran was there with his camera, often carrying a new issue of his 'zine, containing in-depth coverage of previous events. At a time of slow moving information, Radazine/Wire connected New England to the outside world. Other 'zine makers and riders around the world would order the 'zine, or trade 'zine's with Kieran, and our little scene got exposure. Wire eventually morphed into a video series and a website, and ultimately an incredible archive of what our group of friends has done on bikes for the last 25 years.
For those of us in New England, Radazine and Wire were our Freestylin'. King of Flatland was our gathering place. The two went hand in hand. Now, 25 years later we've reached an anniversary none of us expected to care about all these years later: The 25th Anniversary King of Flatland. The reality is, the friendships and times shared back then, and throughout the years are something none of us could have experienced in other activity. It's a unique bond. We were part of something new, and unique, and that bond is what drew a group of 30 and 40-somethings to N.H. once again to reunite.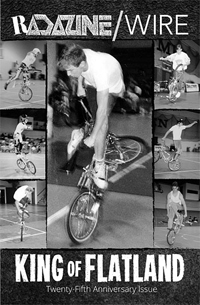 For the 25th Anniversary of KOF, Kieran Chapman put together an incredible book containing a compilation of his coverage of the early events straight out of Radazine and Wire. The book also contains a DVD of endless contests runs from the old events. It's an unbelievable package for anyone involved, or with an interest in old-school BMX and freestyle history.
The Anniversary event itself was surreal. All those years ago none of us imaged we'd be doing this 25 years later, or that we'd still have these friendships. Some of the veterans hadn't touched a bike in twenty years, and came to see old pals, but some of them were still progressing. Regardless of where people stood, that bond was still there. The contest itself brought veteran riders like Darren Pelio, Tommy Simpson, and Gregg Macomber onto the same surface as modern day shredders like Jim Cavanaugh, Gabe Kadmiri, Steve Jordan, and Sean Maher. The whole experience was a testament to what 20-inch bikes, King of Flatland, and Radazine/Wire did for all of us at the time, and how they shaped our lives in unique ways.
The Radazine/Wire 25th Anniversary issue can be ordered for a mere $10 at eWire.