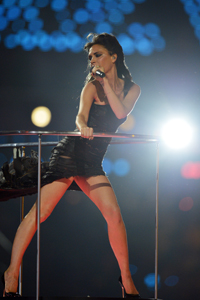 "Closing ceremony confession -- the Spice Girls were the highlight," said Australian BMX racer Caroline Buchanan following Sunday's closing ceremony at the 2012 Olympic Games in London, UK.
"Not gonna lie, I may have been a little excited during the Spice Girls performance," added Team USA BMX racer Connor Fields.
BMX racing at the London Olympics concluded last Friday, with Maris Strombergs taking the men's gold and Colombia's Mariana Pajon taking women's gold, but the majority of riders, 32 men and 16 women, remained in Olympic Village to participate in Sunday's closing ceremony.
Following Olympic tradition, the 10,800 athletes of the London Games, including the BMX riders, marched in as one rather than with their nations, symbolizing the harmony and friendship inspired by the games.
The closing ceremony offered a sensory blast including rock 'n' roll rickshaws, dustbin percussionists, an exploding yellow car and a marching band in red tunics and bearskin hats.
The Spice Girls staged a show-stopping reunion, and Monty Python's Eric Idle sauntered through "Always Look on the Bright Side of Life" -- accompanied by Roman centurions, Scottish bagpipers and a human cannonball.
It all made for a psychedelic mashup that had 80,000 fans at Olympic Stadium stomping, cheering and singing along. Organizers estimated 300 million or more were watching around the world. The night ended with the extinguishing of the multi-petaled Olympic cauldron and a supercharged rendition of "My Generation" and other classics by The Who.
Monday morning, Olympic athletes, including Buchanan and Fields, packed their bags and headed to London's Heathrow Airport to begin the long journey home. Buchanan, 21, who placed fifth in the finals for women, called her Olympic race performance a "nightmare," and was in tears following the race.
"I get on that plane home soon and start preparing for four years time in Rio," said Buchanan as she prepared to return to Canberra, Australia, with plans to begin readying herself for the 2016 Olympics in Rio de Janeiro, Brazil.
Fields, 19, a resident of Henderson, Nev., began his travels earlier today from London. His itinerary included the flights from London to Los Angeles to San Diego. Back in San Diego, he plans to retrieve his belongings from the Olympic Training Center in Chula Vista, and then drive back to Nevada.
"It's gonna be a mission," said Fields.
The Associated Press contributed to this report.