This year's X Games Step Up competition was by far the most exciting one yet. It saw a long duel between Matt Buyten and eventual winner Ronnie Renner clearing heights in excess of 47 feet.
Sitting down on the floor and watching them one after another clear the bar and sending it up higher and higher every time, I couldn't help but think these guys are tapping into a state of mind where true champions or medals come from.
Crediting some of his skillsets to freeriding, Renner said "It wasn't until 2006-07 when freeriding was going good for me and I was doing the quarterpipe stuff that I began to get a whole new feel to my bike."
As Renner, who also won Step Up gold in 2007 and 2009, walked around the staging area moments before the competition was ready to begin, he said something that caught my attention: "I'm in the hills getting ready to session a new hit and Garth Milan is shooting photos."
That reminded me of a time when I said something similar after jumping the quad at Anaheim Supercross, so I recently talked to Renner a little more about eclipsing 47 feet for his latest gold, how freeriding helped him and his plans for the future.
ESPN.com: First of all congrats on another gold. How do your wrists feel after that insane Step Up showdown?
Renner: Still pretty sore here a couple weeks later, compressed my back and got an MRI on my wrist but everything seems to be OK for the most part. It was definitely all worth it!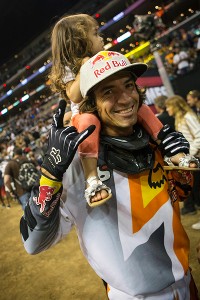 I don't think people on watching on TV really grasped how big that take-off and landing was. What was it like to actually ride up that high in the air?
It was gnarly, looking at it for the first time I knew we were going to be clearing some big heights. I'd like to say that maybe I was intimidated by it but honestly I was so ready to do battle I didn't even see it for how gnarly it really was.
Yeah, you definitely looked focused and ready to battle. What were you thinking when you were clearing the cages holding the bar in practice? I mean those things were almost 50 feet high.
Yeah, practice was good for me because it was the first time I had hit a Step Up jump on that bike besides just hitting ramps or the supercross track. So to go out and feel that comfortable that quick and go that high with ease was a confidence builder for sure. But honestly I've gone into that event every year with the same confidence and it just hasn't panned out so I knew not to get ahead of myself.
You definitely looked like the guy to beat, but Matt Buyten kept you honest, did at any point you think he might have you?
Well. I knew Buyten would be tough. He tends to shine when the going gets tough so I was expecting it. You just have to know he's gonna figure out a way to go big [laughs]. I think it goes back to that old saying "if he can do it so can I." I relied on my skills mostly and just felt the power out through my starts up to getting the height I needed. It's about the total package!
I was standing down there, watching your reaction every time Matt cleared it and you didn't have any reaction other than to get back on your bike and do it again. Mentally what was going through your mind?
Well, I only had a week on that bike and the small amount of riding I did leading up to the event was really all I needed. Just being prepared helped me a lot. Blocking out any distractions and just sticking to the normal routine during the week.
You said to me part of the way through the comp you were just imagining hills and green grass around the lip, do you let your freeride skills take into effect. After all it really is just a cliff jump.
[Laughs] Yeah, I remember telling you that, you know I just felt like I was sessioning a new hit and Garth Milan was out there in the hills and we were just trying to get a shot.
But getting back to the freeriding thing, when I first got into doing Step Up I adapted pretty quick to it but had zero freeridng skills under my belt. So after moving to California and riding in the hills a lot and I can attribute "Ride to the Hills" and the quarterpipe to it.
And not just because your interviewing me, but I owe you some credit too for making opportunities happen that helped me at the end of the day feel more comfortable on that Step Up lip. You know back in the day you would just hit the Step Up lip straight and eventually would run out of power and that was kind of it. It wasn't until '07-ish when freeriding was going good for me and I was doing the quarterpipe that I started getting a whole different feel to my bike.
Thanks for the compliment, it means a lot to know that. Well, I have to say Matt made you work for it but you earned it and impressed me tons with your mental state of mind and ability to stay focused despite jamming your wrists, and constantly having to literally step it back up. [No pun intended.]
[Laughs] Thanks!
What's the rest of the year look like for you?
Yeah finishing out the X-Fighters tour with some media stuff I'm doing and my Network A YouTube series I'm doing, freeriding after that. And I also want to say thanks to KTM not just for a shameless plug but honestly they gave me a weapon that allowed to me handle business, and I owe a big thanks to them!