Now in its sixth year, the International Freeski Film Festival (IF3) -- a celebration of ski movie premieres and parties held annually each fall -- is seeing major growth worldwide. On Aug. 3, IF3 will host its first event in South America, with one night of film screenings in Santiago, Chile. On Sept. 12 - 16, IF3 will take over downtown Montreal, Canada, the city where the festival first got its start in 2007. Then on Sept. 28 - 30, the film fest will return for its third year to Annecy, France, and finally, it'll make its first visit to Innsbruck, Austria, on Oct 5 - 6. We spoke to Felix Rioux, co-founder and president of IF3, to talk about the event's global expansion.
Sounds like IF3 is taking over the world.
Yeah, we're starting to do IF3 spinoffs in other countries. I've been looking for new partners for a while and when the ski resort La Parva, in Chile, contacted me, I said, 'Why don't you do a screening there?' and they liked the idea. Then we're adding a third full IF3 festival in Innsbruck, Austria. I'm in discussions with guys in the UK and I have a few other leads as well.
What's the long-term goal?
Throughout the years, we've positioned ourselves as one of the leaders in the ski movie screening experience. Right from the start, our objective was to be the Cannes of ski movie festivals. We wanted to offer something prestigious that recognizes what goes on in front of and behind the lens. And offer a big party for the ski industry to kick off the season.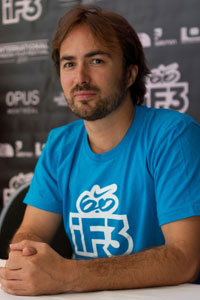 But your locales for festivals aren't ski towns so much as international, urban areas?
We really want to have a platform to communicate skiing to the masses. That's why we chose an urban environment like Montreal -- there's a big pools of skiers there but it's also in close proximity to a lot of major cities. Our main objective from year one was to use the ski industry's resources and then go into the big city and communicate to people, 'Hey, skiing is fun. It's not just snowboarding that's cool. Skiing is cool, too.'
What's changed at the Montreal festival over the last six years?
Montreal has huge international festivals, so it was hard to get our spot. But we finally have a home for the festival on the main boulevard downtown and we've secured a partnership with the city to have an outdoor venue. So we'll have the movie theater, outdoor venue, hotel, and party venues all on one main block. When people come across town, they're going to see skiing for about a week. The tourism office is also starting to get involved. They're realizing IF3 is an international product, so the door is now open for us to have governmental financial support in the future.