JP Walker might be one of the few pro riders for whom the cliche "no introduction necessary" actually holds true. "The Don," has been on the pointy end of the urban progression spear for so long, it's hard to imagine snowboarding in the streets today without his influence. (He also brings an amazing freestyle prowess into the backcountry.) Walker notes 'True Life,' 'This Video Sucks' (Every trick is swtch!) and 'Good Look' as a few of his favorite video parts to date but, make no mistake, he has produced enough work over the years to fill an entire DVD shelf.
This year Walker switched things up yet again, choosing to work primarily with Simon Chamberlain on a web-based project, Jibberish, with full parts released after a season of behind-the-scenes looks. Canadian Chamberlain's part dropped July 1, Canada Day, and JP's three-plus-minute part drops today, "Independence Day," appropriately enough. We hit up Walker to find out why the duo went this indie route, what they learned along the way, and what his all-new tricks are this year.
ESPN.com Are you looking forward to this Jibberish part dropping more than previous parts in traditional videos?
Walker: I think I have the same amount of stoke for this to drop as any of my parts. Maybe a little more because we did this thing on our own at the last minute and worked through all the problems and still pulled it off. I always dive hard into these video projects and they feel like "my thing" even if they are someone else's. [laughs] There is a bit more anxiety involved with [Jibberish] I guess, though...
Any bummers to releasing a part this early and for free on the web?
A hard copy DVD is always a cool thing to have, so that will be missed, but I'm stoked to get it out there early. I think being the first new footy of the season to drop is pretty cool even if it is in July. The last few years I've felt our projects got dropped a bit late.
What are people going to get with your part that they won't get anywhere else?
A-grade snowboard footy for free. I also was able to secure a pre-release track from my favorite hip-hop artist, Prodigy of Mobb Deep, from a new album that drops the day before my part. We got to edit to a dope song that no one has heard yet.
"

I [secured] a pre-release track from my favorite hip-hop artist, Prodigy of Mobb Deep, from a new album that drops the day before my part. We got to edit to a dope song that no one has heard yet.

"
Simon's claiming that you have a couple of never-done tricks. What are they and what's rad about them?
Just a few handrail tricks... One is a switch backside hard way 360 to 50-50. I did it on a famous gap out ledge spot in Helsinki. The other is probably my favorite because it was just on a stock straight rail. No special feature or anything, just a basic piece of steel. The trick is a fakie 450 to lipslide 270 out. Of course people have done 450s but never on just a straight down rail like this.
What about on the production side of things?
We did a little intro thing for my part... An idea I had for a while but never got around to doing. It's a little morph of [me] transforming from skate to surf to snow. It turned out cool, especially because we just shot it with GoPros and don't have any motion graphics experience. Also, the song I got from Prodigy is called "Life is What You Make It," and I actually think some of the lyrics fit in with how I see my own snowboarding and career.
Now that you have a season under your belts, what changes do you anticipate for next year?
Hopefully a little more budget and support. A lot of people were stoked when we decided to do this but then we got a bit of hate for it after we started. I think people just trip out when things change and they are faced with the unknown. We ran a full skeleton crew all year and everyone was playing multiple roles, so I think next time we will be more prepared.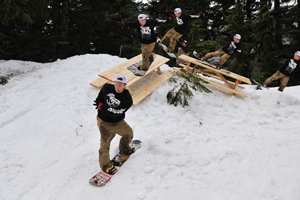 How do you reckon you and Simon fit into the grand scheme of urban progression now that you work mainly with just each other?
Hard to say since we have only really seen our own stuff, but I know what I saw Simon do and it was top shelf riding. Especially considering how bad of a season it was... He is a beast and he racks up footy at every spot we get to.
Do you and Simon ever get sick of each other? Looks like a long season with a lot of long plane rides and shrimp sandos...
Nah, we are good, man. He's a good kid and even with his identical twin filming us all season I don't get sick of seeing him. [laughs] It's hard to get tired of those shrimp sandwiches, too.
What's the one spot from this year you just know you'll go back to?
We will be in Helsinki again for sure. It's been a go-to for awhile now and hasn't disappointed yet. As far as a specific spot there I'm not really sure. I like to just get on the ground and let the vibe of the streets take me wherever it does and hopefully find something unexpected.