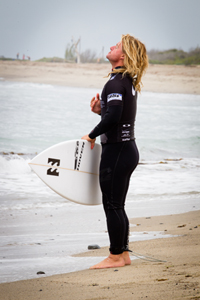 Murky economic waters continue to swirl around Billabong, one of the world's most iconic surf brands. In our small, often ridiculous sand box that we wave-riders dwell, unlike the Wall Street Journal, the question is not what's happening in boardrooms or who's going to be Occy's next boss, but considering Billabong position as one of the "big three" in the surf industry, what does their financial turbulence mean for the sport?
"We've always supported surfing, it's in our DNA as a company, and we will continue to support it through events, athletes, and the goods and services we provide. It's who we are," says Vice President of Marketing for Billabong USA Graham Stapelberg.
What's grabbed headlines in financial reports most recently is the fact that the company's stock price is hovering around $1.00 per share, down from its $18.51 high in 2007 (value in Australian dollars since Billabong is traded on the Australian Stock Exchange). Meanwhile, Billabong founder and majority shareholder Gordon Merchant, who the Sydney Morning Herald reports is hunkered down in Jeffreys Bay, South Africa, is facing criticisms from the board of directors, while having to entertaining potential solutions from "white knight" investors.
"The challenges that need to be addressed are being addressed, just like at any other company," says Stapelberg.

A June 26 the Wall Street Journal reported that some financial analysts currently consider Billabong "a high risk investment unsuitable for mainstream investors." The Sydney Morning Herald story points to Nike and PPR, the company that purchased Volcom for $600 million in 2011, as potential suitors, but fails to site any sources. Nike representatives would not comment on the matter.

All of this comes after Billabong downgraded its expected earnings for fiscal 2012 earlier this June, and announced it was hoping to raise approximately $225 million by issuing new, discounted shares.

"The board and management have taken prudent action to restore the balance sheet and add financial flexibility," said Chief Executive Launa Inman in a June 20 WSJ story. "With the right focus and execution, Billabong will once again become a growing, profitable business."

On May 9, Inman, formerly with Target, replaced 20-year Billabong company man Derek O'Neill as CEO.

A major backer of the world tour, Billabong sponsors three out of 10 events on the men's ASP World Tour schedule, as well as one women's stop, the World Pro Junior Championships, and the prestigious XXL Awards.

"Billabong has been a long-time supporter of the ASP, backing some of our greatest events and athletes," told ASP Media Director Dave Prodan in an email conversation earlier this week. "It is unfortunate to learn about their recent financial issues and we hope for a successful recovery for them. With regard to their commitment to the tour, the remaining Billabong events in Tahiti and at Pipeline are confirmed for 2012."

"We have the Billabong Pro in Tahiti coming up in August, and we're very excited about that," says Stabelberg, "And then the Pipe Masters in December, which is the most prestigious event in surfing."

As for those athletes, surfers like Joel Parkinson, Taj Burrow and Mark Occhilupo are on the company payroll, which also could put them in the line of budgetary fire. On June 25 Kelly Slater tweeted, "Billabong?! Wow. Parko and Taj could probably afford a hostile takeover in another week or so."

"We started as a surf company and will continue to support surfers and help them achieve their goals and dreams," assures Stapelberg.