Lucas Debari was born and raised in the tiny town of Glacier, Washington, in the shadow of Mt. Baker -- one of the Pacific Northwest's mightiest legends. He received his first snowboard at the age of four. By the time he was twelve he was turning heads in the PNW snowboard community, and by the time he turned 21 he had blasted more lines up there than Keith Richards.
"When I was growing up Mt. Baker was in the limelight of professional snowboarding, with riders like Tex Devenport and Craig Kelly just ripping that place," says Debari. "Being up at the hill every day and seeing all of this go down, as a little kid I can't remember wanting to be anything more than to be a professional snowboarder."
Now 23, Debari has a knack for breaking off critical drops in the backcountry and charging big mountains with old school speed. "I think Lucas is what a true snowboarder should be: driven, passionate, and a little bit of a punk," says his North Face teammate, legendary Canadian ripper DCP. "He goes huge -- always ... These days Lucas is my favorite snowboarder to watch as well as to ride with."
He's one of ours, too...
Your riding style is very much a reflection of where you come from. What are some of the factors that shaped your snowboarding?
Just by riding Baker I was able to progress so much, with the kind of terrain that was available and new lines forming all the time because of the insane snowfall, not to mention the guys I got to ride with -- or behind, I should say.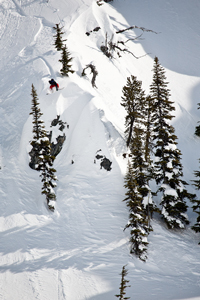 I mean, Temple Cummins was there ripping the gnarliest s--- around. Honestly, I just followed his tracks. You do that long enough, you get an idea of how to ride good, steep terrain.
As far as riders that have influenced me, filming with Jake Blauvelt really opened my eyes. He has a unique perspective on terrain. The way he initiates his run is cool because it's so different than how I would approach something. He definitely has a flow that I envy.
Really, everyone that you snowboard with that does something awesome you try and mimic in your own way, right? The way I see it, the more good snowboarders you ride with the better you become yourself.
Did you ever consciously decide that you wouldn't go the same route as most young snowboarders -- i.e., contests?
Actually, I did that, but because I did it at such a young age that whole part of my snowboarding was done by the time I was 16. When I was 15 I got hurt in the pipe pretty bad, so I took a step back to decide how I wanted to approach it from there on out.
It wasn't the most unconventional route looking back, but I guess I was pretty young when I decided that I wanted to let freeriding drive my career.
It should be interesting to see where this path takes young guys like you and Sammy Luebke, because historically most pros don't start exploring the big mountain freeride stuff until their late 20s, early 30s.
I always like to compare myself to the best: Blair Habinecht, Xavier de le Rue, Jeremy Jones. I look at what they're riding and use that as the bar. Then I think "Wow, all these guys are ten years older than me. They have so much more experience and knowledge of the mountains from being in them so much longer." It's important to understand that when you are out there. Speaking for myself, I have a long ways to go, experience-wise.
How does it feel working with Absinthe Films?
My whole life I have been watching their movies. I've seen "Optimistic" probably one hundred times! To work with them is really special because I know how important these movies are to young kids out there, because not long ago I was one of them!
No one works like Absinthe works. Justin Hostynek is so motivated and so dedicated to his art. He really has a unique eye for the terrain as well. I think his logic goes beyond what will look cool but in how it will all play out in the context of his film. Absinthe is the closest you will get to the feel of snowboarding without actually doing it.
You also filmed with Jeremy Jones for "Further"?
Yeah we did a 24-day camping trip into the Wrangle/St. Elias Range in Alaska. We flew out probably about one hundred miles from the nearest town to a zone where no one had ever been before, and I'm not talking just snowboarders, but anyone!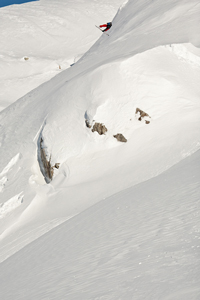 Everything we did was a first descent and the main wall we had outside our tents was just the gnarliest spine wall, with giant ice chunks and seracs and the most terrifying terrain that I had ever seen. I think I only rode three lines that entire time without an ice axe in my hand.
No fall zones I take it?
The entire place was a no fall zone! It was intense but it was some of the best snowboarding of my entire life. I was with Jones and Ryland Bell, and their level of snowboarding is as high as it's ever been. Those guys pushed me to become a better snowboarder in ways I had never felt before.
This is one of the best ways to snowboard, though, being immersed in the terrain like that. You really get to know your line because sometimes you hike right up it.
It's so much better than being posted up at a hotel for days then going to the heli pad and two minutes later being on top of a crazy line you haven't had much of a chance to really look at. We were in it.
Beyond snowboarding, what else do you get into?
When snowboarding season is over I am basically living in my tent up and down the mountains rock climbing. The power of the mountains is just amazing and I really can't get enough of it.
At some point in the near future I want to try and incorporate some mountaineering into my snowboarding. That might be the next step for me. For some reason I just like to scare myself a little bit... and the mountains definitely help in that respect.