While the past winter in South America and New Zealand was about as bad as the one we just experienced here in the U.S., if early-season snowfall is any indication of what's to come, this year looks to be a deep one down south. This weekend marks the opening of operations for many resorts in the Southern Hemisphere, and -- get ready to be jealous, or bust out the credit card -- in some areas of Argentina and Chile storms have already dumped as much as five-to-six feet in the higher elevations.
Valle Nevado, in the central Andés outside of Santiago, Chile, opened sixty percent of its 7,000-plus acres on Friday with full powder conditions.
"With over a meter of base at mid-mountain, snow conditions are pretty good already," says Valle Nevado's spokesperson Arnau Fernandez. "We have already had three big storms and it is snowing pretty hard as we speak."
Those who got skunked on snow in the Sierra this winter might want to take note of this: the resort is offering seven days free skiing to anyone holding a Mammoth MVP pass.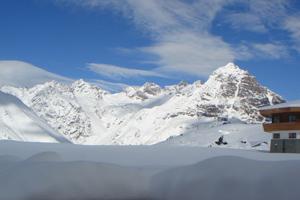 At the other Chilean powder paradise, Portillo, a total of 65 inches of snow has fallen in recent weeks, putting them on track to hit, if not surpass, their season-snowfall average of 27 feet. Portillo opened eight of their 14 lifts on Saturday, with more on standby to open soon, conditions permitting.
"The last two seasons have seen below average snowfall across our part of the Andes due to the La Niña phenomenon," says Anton Sponar, owner of a small backcountry operation near Los Andes called Ski Arpa, which plans on opening July 1. "We now have passed completely through this cycle and have received above average precipitation for the past five weeks."
Over in Argentina, Las Leñas holds the most impressive totals to date, with a measured six feet of snow at the top of their Jupiter lift on its opening day of Wednesday, June 20.
"Last year we couldn't even open until July 4 due to lack of snow," says a spokesperson for the resort. "We are now 100 percent open with an incredible amount of quality snow -- as we are used to."
"At this time last year, the Puyehue Volcano was erupting and spewing ash all over Chile and Argentina," says Tyson Crockett, Director of Communications at SGT or SASS Global Travel (Snow and Surf Sessions), the ski and snowboard adventure actions sports company with experiences in Cerro Catedral, just outside of Bariloche. "So we feel really good about the amount of snow already on the ground, and predictions of an El Niño South American Winter."
With a major storm to dumping close to three feet in southern Argentina over the weekend, Cerro Catedral is opened on Sunday the 24th of June.
The stats might not be as impressive in the other Southern Hemisphere winter wonderland, as they are in South America right now, but New Zealand is still looking at a "way better than last year" scenario.
"Last year was desperate -- absolutely no snow fell until mid-July!" says Treble Cone's Nigle Kerr. "This year is far more in line with a normal winter –- if there is such a thing. In fact, it's a bit colder and stormier than the norm."
On New Zealand's South Island, Cardrona opened Friday with four out of six lifts in operation and a 13.5-inch base. Neighboring Snow Park NZ, which lies at a lower elevation, was slated to open this week as well, but has delayed until next week in order to blow more snow. Treble Cone is scheduled to open June 28.