"Ten years from now I feel like I could still be winning contests."
Kelly Slater said that four years ago in 2008 a day after winning his ninth world title at the Billabong Pro in Mundaka, Spain. He was 36 years old and had just capped off the most dominant season of his career, having won five of eight events by that point and then going on to win the Pipe Masters. It was easy to view him as rich, happy, healthy, and at the peak of his career. In other words, he was a man with nowhere to go but down.
So his idea he'd still be winning contests ten years later at 46, that was just silly, right? In 2008, Dane Reynolds and Jordy Smith were doing airs that he couldn't do. It was only a matter of time before they passed him by or another group of kids came up that were just too young and too good. Of course, in 2010 and 2011 Slater went on to beat the Dane's and Jordy's of the world, and the Mick Fanning's and the Joel Parkinson's, and the Taj Burrow's too. But the new, new crew of Owen Wright, Gabriel Medina and John John Florence has pushed him in different ways. Wright beat him in New York after narrow losses in Tahiti and Trestles. Medina took him down hard in France and San Francisco. Florence combo-ed at Pipe, but failed to hold priority and allowed him to steal a last minute victory. Kelly won that battle, but how many more wars could be won against someone so preternaturally talented and ... young?
On the Gold Coast of Australia in March of this year, Josh Kerr, a wily vet but still 12 years his junior, beat him by showcasing a superior air game in small, gutless slop. Seeing him lose in waves so bad felt like an undignified way for a king to go down. So maybe it was Bells this year where the fire was lit anew. Nothing enrages Slater more than losing a close heat, and the final against Fanning was as close as it gets. At the end of the day he went down because the judges liked Fanning's turns better than his airs. He tweeted, "Judging is an opinion and a perception. Not right or wrong. That was the best air I've done in my 40s! But Mick was carving shit up." So coming into Fiji, after skipping Brazil, he may have thought, "They want to see turns, I'll show them some turns."
Was his performance in Fiji this year the best of his career? That's debatable because there have been so many incredible ones over the years: Trestles, Pipeline, Teahupoo, J-Bay, Snapper, Bells -- everywhere. He undoubtedly did some ridiculously good surfing at Tavarua, but what seemed most remarkable was the newness of it. Those incredible turns -- fading back on the drop, using the whitewater to get extra push off the bottom, the beyond vertical foam climbs to top, the impossible torque of the power snap/slides in the pocket. The tour hasn't seen that level of vicious intent since Reynolds destroyed Parko at Snapper in 2010. Honestly though, what Reynolds did in head-high waves over soft sand didn't have anywhere near the level of speed, power and aggression that Kelly showed on his 10-point ride in the semifinal against CJ Hobgood. Has anyone ever executed a turn over dry reef better than the one Kelly did at the end of that wave?
After the win he still wasn't done. Perhaps mad at himself for opting not to freesurf on the big day, he reportedly surfed Restaurants after finishing his victory commitments, then Cloudbreak later that day until dark and again early the next morning.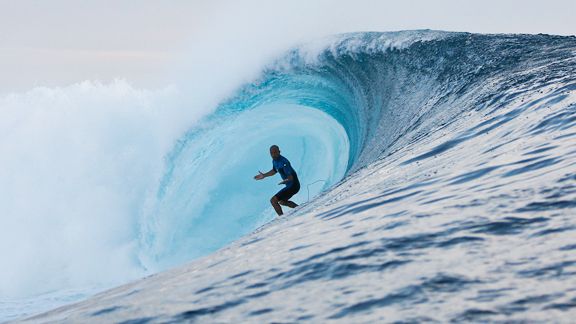 Imagine if he had been at this level during his lost years from 1999 to 2004, when he went walkabout and then found himself struggling to match the intensity of Andy Irons. Had he stayed in the game he could be looking for world title number 20 right now, not 12.
So again, the question, has he peaked? Or god forbid, is he just getting better?  How long can this go on? A year, three years, five years? Could he possibly still be doing this ten years from now when he's 50? What the hell has he done to avoid injury, stiffness, boredom, fatigue? What deal did he make with the devil?
Who knows? Maybe we're truly dealing with an alien here, a being that gets younger and more skilled every year and goes on and on like that for eternity. Next year, next contest maybe he could be doing standing el rollos in the tube and double cork 1080s above the lip. Maybe the question isn't when's Slater going to retire, but if he ever will.