Alan Petersen is back! After an extraterrestrial abduction-style disappearance in 2005 -- with rumors of him delivering mail by plane in the Australian outback -- Fresno's finest just moved back to the States and settled in Encinitas, Calif.
As we conversed at the infamous Captain Keno's watering hole, I discovered that Petersen's life was one part heavy, one part excellent adventure packed with alien conspiracies, Cadillac tours with Natas Kaupas and unfortunate addictions. And yes, mail delivery in Australia, too.
ESPN: Was SMA your first sponsor?
Alan Petersen: No, my first board sponsor was actually Epic Skates, through a friend of the family. She knew these guys were starting a skateboard company and told my parents. So we got the big video camera out and shot some stuff, sent it over and they were like,"Yeah, you're sponsored." I was on Epic for a couple years.
So, your parents were pretty supportive?
Yeah. My dad, not that much. He didn't believe I'd ever be able to make any money off that. Now SMA happened because I'd stay at the City Skates skate shop house in Modesto. They'd always put on demos and contests with guys from L.A. and S.F. in a roller rink.
Once Natas [Kaupas] flew in, and we started skating together. It wasn't a demo or anything, that's when he asked me if I wanted to skate for Santa Monica Airlines, around 1988. Before I graduated high school, I went on my first tour ever with them -- it was a tour across the U.S. in a bunch of Cadillacs. We had just taken off when one of the cars blew up, but Natas bought another one in Vegas. It was incredible.
It seems like you climbed to the top with SMA by the time the "Debunker" video came out. 1992?
I guess you can put it that way. "Debunker" was all Thomas Campbell and Steve Keenan. They were super into the alien stuff. We used to sit at their house and listen to these tapes they had, of like some guy talking, and then we'd go outside and look up in the air, all stoned, trying to see a UFO.
Did Alien Workshop ever think you were making fun of them?
No, we were super into it, even before Alien was about it. I went to the Münster, Germany, contest one year and I had these Bill Cooper tapes with me. He pretty much told the truth about CIA and the government, and I remember sitting in a room with Danny Way and Lance Conklin -- all these dudes listening. I tripped them all out -- I screwed them up. [Rob] Dyrdek might have been in the room!
How did you guys start Consolidated after that?
At first it was me, Corey Chrysler, Karma [Tsocheff] and Jason Jessee. We left when Birdo and Keenan left Speed Wheels at Santa Cruz [skateboards]. We got prototypes of the shapes, went to Jason's house and made some stencils, then we drove over to the Santa Cruz beach boardwalk where they have the rides. That was the first Consolidated ad. It was us going down the log ride, fake log going down, with a cop walking down the stairs.
How did it go from that to the whole Don't Do It campaign?
I didn't really focus on that campaign that much, it was really Birdo's thing. He was just bummed that they [Nike] were coming in. I mean, I used to wear Michael Jordan's shoe, Natas wore it, Jim T. wore it. You just wanted a cheap shoe cause you were destroying them so fast. But I can understand Birdo's point, still.
What happened to you at the Bowlriders contest in Marseille, France, in 2002?
I flew in, dropped my bags off at the hotel and went to the park. They had built this 4-foot high wood extension on the spine -- the coping was on but no deck yet. I went for a frontside 50/50, my board rolled over and I pretty much back flipped onto the spine and split the muscle on my femur bone. I skated for five minutes. I flew home the next day and that was the last time I've been to Marseille.
You retired a few years later and split -- what happened?
I retired in 2005 cause I felt I wasn't progressing. I also had an addiction to cocaine and painkillers. I was pretty messed up. My friend in Australia, Andrew McKenzie, invited me on this Warped Tour-style event and it's really hard to get cocaine or painkillers in Australia, so I got on this tour and got off the drugs. I hooked up with a girl over there too. I stayed at her house in Melbourne and she got me clean. I just quit. That was it. I can't do that stuff. When I quit smoking, two years ago, I just did it.
How did you get into drugs in the first place?
I had this roommate at my house in Fresno and his friend was a coke dealer. One day when I came back from tour, they were like, "Hey, wanna try this?" It's not something I did when I was younger -- it was an older addiction, it was weird. And when I do something, I gotta see how far I can take it. I took it pretty far, right before you gotta go to the hospital, though. Before I knew it I'd be up for three days, sitting at the dealer's house just playing cards and dice -- it was stupid.
Did you fall for it easier because your career was slowing down?
Oh, definitely. I was bummed that I was shooting the same photo but at a different spot. So I went through that and went to Australia to self-medicate. When I got married I got a job over there, my first job ever, at the post office in Brisbane, delivering and picking up mail in a van. I lived by the Fairfield skatepark, so I still skated. But then we moved further out, north of the city, to get away from the big party.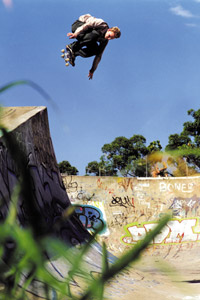 We went to Redcliffe -- it's like a retirement area, man. It's not what I needed cause I stopped skating. Then it got even worse when we decided to move to my miss's hometown of Mildura -- we're talking Outback. We drove two days to get there. Our daughter was only 4 or 5 months old, it was pretty heavy.
When we got there it was the hottest, driest day and there were so many flies -- the desert, man. I thought, "Where the f--- did I move to?"
We lived down there for a year, we thought her mom and stepdad could help with our daughter, but they didn't. I got a bunch of terrible jobs painting houses, filling gas tanks at people's houses and businesses and making huge tractor wheels for military vehicles in a factory. I hated that place, so we moved back to Brisbane in 2009. I ended up getting a full-time job at an air conditioning factory that I was made manager of a few months later.
The Amer … Australian dream! What made you come back to the United States, then?
Me and my wife, it wasn't working out, a lot of communication that wasn't there. It's kinda personal. But moving back to the U.S. was the hardest decision of my whole life. The hardest. We have two kids. At least, it's gonna give them an option to live in America 'cause my wife would never want to live here. But Skype is amazing. I got my daughter an iPod before I left so we're always connected.
How did you end up in Encinitas?
There's this girl here, who I used to go out with in high school. We talked through Facebook, and she said to come and hang out -- and now we're together. Skating-wise I'm trying to reconnect. I wanna go see Remy at Volcom to see what he's doing. I called Karma, I saw Pat Duffy, I saw Phelper in the City [San Francisco].
Did you have any regrets after moving to Oz?
Definitely. Not in the beginning though. I learned what to do at these jobs and it'd just become too easy. Where skateboarding is not boring. That's all I thought about when I was there, when I was working the normal job -- I was thinking of skating. Wondering what everybody is doing over here while I'm getting bored out of my mind.