Sometimes in life people find themselves with opportunities they had not planned on having.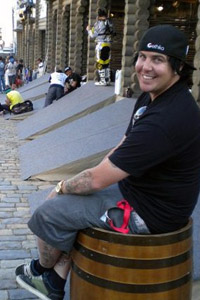 This is the case with Lucas Mirtl. The native of Australia had no idea he was about to embark on a journey that would change his life as he knew it. Starting out racing with a motocross background, he found himself with one opportunity leading to another.
From being a mechanic for a handful of riders and traveling the globe working on their bikes to starting his own agency, LM Action Sports Management, in the United States, Lucas has established himself in a short amount of time that some never accomplish.
One of Lucas' major accomplishments, next to having built his agency up with 15 different athletes in all genres of action sports, is the partnering with Motocross Hall of Famer Jeff Ward in his JWR [Jeff Ward Racing] Motocross team.
I recently spoke with Mirtl about his intriguing his story, and here's what he had to say.
ESPN.com: So tell me who is Lucas Mirtl and where are you from?
Mirtl: I am from Kalgoorlie Western Australia, it's a small mining town with about 40,000 people.
So you're from Australia, how did you end up over in America?
I came over to America in early 2008 for Baltimore Dew Tour with Jim McNeil and Nixey Danielson and Cam Sinclair who got hurt the week before I left and from there I traveled around the States and world as a personal mechanic for FMX athletes.
What did you do before you got involved in action sports?
Before I started in the action sports world I grew up racing MX in Australia, from then I did my apprenticeship as a motorcycle mechanic and worked during the week and raced on the weekend. Then I met up with Chris Foreman who got my foot in the door with Crusty Demons of Dirt tour and he gave me my start in the industry as the tour mechanic for the tour. And from there it just came together.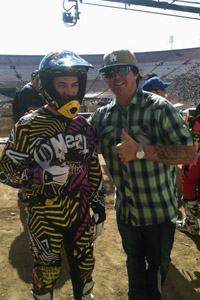 Did you have a plan of coming to America to start your own agency or was it just the culmination of one door opening to another?
Absolutely not I was content working on bikes. But as the industry tightened up I had to look outside the box and with the relationships I had built as a mechanic I was able to manage my athletes in between working on their bikes.
It wasn't an easy progression from mechanic to agent. I wouldn't have been able to do it without the help of some great people like Steve Mateus, Malcolm McCassey, Robbie Maddison and Jim McNeil who believed in me and gave me the tough love and advice needed to succeed in starting my own agency and get to where it is today.
Who were some of your first athletes and how many guys do you have now?
The first and main guy that got my agency up and running was Jim McNeil. I can honestly say I was blessed to have Jim in my life. Not only was he my best friend he was there from the beginning to put his name behind mine and backed me as his agent. From there it grew to where it is today with over 15 full-time athletes from FMX, BMX, surf, UFC, motocross, supercross.
One of your athletes, Rob Adelberg, recently placed second at Dubai X-Fighters, that's a pretty big deal considering some of the adversities he's had to overcome with his last injury?
Yeah that's a story altogether in itself. But to keep it short he was faced with circumstances that no rider ever wants to be faced with and all the mental issues that come with an injury like that. He's a fighter for sure, I mean he flipped one of the step-ups at Glen Helen X-Fighters and crashed, re broke his jaw and still competed.
You also manage and are a partner in the new Jeff Ward Racing team, tell me about that?
Yeah, Jeff and I started working together about two years ago, we both sat down and looked at what he has done and achieved and mapped out a plan for what he wanted to achieve and be a part of in the future.
The first thing we wanted to do was get back into racing without competing. From there we put out our intention on starting a motocross-supercross team. We met with a few people and eventually got a call from Chris McAvoy from L&M Racing and said Mike Kranyak was interested in speaking with us so Chris set up the meeting and from there we all agreed to start Jeff Ward Racing and go racing.