With the consolidation of core sneaker brands the skate footwear unemployment line is getting longer and longer in 2012. When staple core brand éS announced it was halting operations earlier this year it left a lot of great skaters barefoot, including Krooked Skateboards' Mike Anderson, whose first pro model shoe was about to debut. Luckily for Mike he didn't go long without a shoe sponsor. It was announced today that the restructuring Cons Skate Program had added Manderson and legend Jason Jessee to its roster. Expect further changes from Cons in the near future when, like every other brand this year, they cut their dead weight and set it adrift.
ESPN.com: How did this Converse thing come about?
Mike: I was bugging Mickey Reyes a lot about trying to find a shoe sponsor and I told him I was very interested in Converse and I was at ASR trade show and Mickey dragged Steve Luther up and made an awkward introduction. It all went from there. The next thing I know they were down to do a contract so I was stoked. Converse is rad.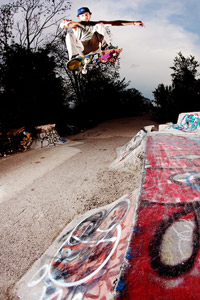 Your dad builds movie sets and Converse loves guys that can build stools and cabinets. Was that a key factor to you getting on the team?
Yeah, I don't know if they're too interested in my carpentry but they said they might be down to sponsor my dad though. But for the basketball team.
They put you right to work, huh? Didn't you go and judge some contest in Mongolia right after Tampa Pro?
Yeah, they sent us to the Philippines. Manila, not Mongolia. It was sick. To go to China and Philippines and Macao for two weeks just to skate and judge a contest for one day was pretty mellow. It was funny, they had a press conference over there before anything was official yet and they were announcing me as the new pro and I was like, "Hey, man! That's not what's going on--It's not official. I'm just here with Kenny Anderson judging a contest".
Sounds like the Mongolians are good detectives. You got on the team the same day as Jason Jessee--that has to be a rad feeling.
Yeah, man. I didn't know until a week after that he signed his contract the same day as I did and when I found out we signed the same day I thought that was pretty cool. I haven't met him yet but I talked to him on the phone for about a minute and that was pretty funny. Luther wanted it to be awkward but it ended up all right; he said I can come up to Santa Cruz and shoot guns, throw weapons and drive cars and stuff.
You have Andy Roy babysitting your daughter half the week, think you could get Jason Jessee to watch her the rest of the week?
I don't know if Jason would want to watch my kid. I don't know Jason. I don't know. He has a daughter so maybe.
When I interviewed you for ESPN in February, things were still up in the air with your shoe sponsorship. Was there ever a point where you weren't going to find a shoe sponsor?
Yeah, for a long time. I was thinking I was going to get a job swinging a hammer. You can't support a family just with a board sponsor. You need the shoe sponsor to do what I do and I am stoked that I'm on board at Cons. I was freaking out for a second, looking at my daughter. I was like, "I need to figure this out or I need to think of some new skills". I'm glad it worked; I got a couple more years to hold me over before I gotta swing a hammer the rest of my life.