Jeremy Stenberg's new freeriding film "Twitch's 420% All Natural" was released Tuesday through the iTunes Store, just three weeks after its world premiere in Newport Beach, Calif. The film, directed by Jay Schweitzer and produced by Powerband Films, features Stenberg and a posse of riders including Nate Adams, Andy Bakken, Tyler Beremen, Vinnie Carbone, Mike Mason, Jeremy McGrath, Dustin Miller, Dan Pastor, Todd Potter, Ronnie Renner, Myles Richmond, Daniel Sani and Brody Wilson.
Stenberg has said he hopes to transition away from FMX competition to focus on freeriding and filming, and hopes the statement he's making with the new film will help make a post-competitive career possible for himself and for other top freeriders. We caught up with him for more on the film and his future plans.
ESPN.com: You've said before that you've always wished that FMX riders could just go out freeriding and making films and make a career of it, separate from the competition scene, the way some of the top skateboarders and snowboarders have been able to. Now that your "Twitch's 420% All Natural" is getting out in front of the world, how well do you feel the film will help you toward that goal?
Stenberg: I don't know if I've achieved it yet or not, but I know I've put in a solid effort and that is still my ultimate goal. I feel like this film is a step in the right direction, that's for sure.
There isn't a single contest shot or metal ramp in the film and every jump is either natural terrain or something we shoveled out by hand, with one or two exceptions where we used a bulldozer. I grew up freeriding and that's what most of my buddies grew up doing, and I wanted to make sure this movie was truly about freeriding. It's a documentary about what we do when we're out there having fun and not just putting on a show for a crowd.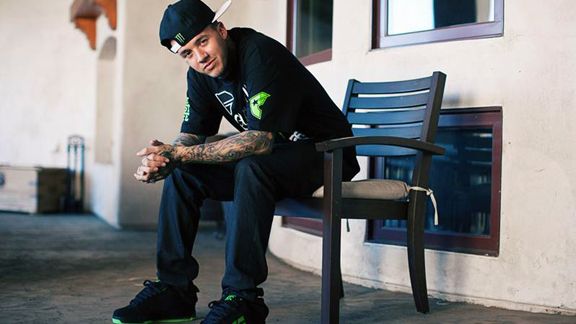 After everything that went into filming it and getting it made, what are you most excited about now that it's going out on DVD and iTunes?
I'm really excited for everyone to see the movie and I'm pumped on how it came out. Man, we went to a lot of different places. We went out in my back yard in Temecula, we went to Beaumont, Reche Canyon, Santa Barbara, Cambria, Ocotillo, Glamis, and then to Cameron, Arizona. I just brought out all my friends that I knew could get good shots, and so many people came out. We got good shots from everyone! I didn't care if you were the No. 1 dude in the world at riding contests and you had every trick in the book: If you didn't get solid shots we weren't putting you in the movie, because we didn't want to have any filler shots.
How did the collaboration with director Jay Schweitzer come about for "420% All Natural"?
When I envisioned this project I just thought, "Jay Schweitzer is the perfect guy for this movie." He's so passionate about his filming, he strives to get the best shots, and he has the best equipment. I've loved every single movie he's ever done. He's really good at what he does and I'm really good at what I do, and I figured working together we could kill it and make a dope movie. I'm definitely pumped on how it came out, and we're already thinking about how to make the next one bigger and better.
Where do you get the courage to go for it when you're flipping and tricking off jumps that you encounter while riding out in natural terrain?
I grew up riding in the hills and that's where I feel most comfortable. Whenever I hit a jump for the first time it always pops in my head, if the jump feels good: "I could flip this." And by the time I'm thinking that, then I'll usually just do it.
I used to hesitate more because I had contests coming up, things I didn't want to get hurt for, but now I'm at the point where this is what I want to do and this is it. I want to freeride and I want to get the best shots in my movie, so if a jump's possible I'm definitely going to go big and flip it.
What do your sponsors make of your move away from the competition limelight?
Etnies and all my sponsors have been major backers of this film. It's cool to have a sponsor that has your back to do what you want to do, and they understand that I've been around for 15 years and contests are starting to get old for me, that I'm getting bored with it.
When I went to Etnies with my vision for this movie they were like, "Let's do it, we'll back it 100 percent." It's so dope! I'm really fortunate to have sponsors like Etnies, Monster, and Famous Stars and Straps, people who see the things I want to do with freeriding and want to support it.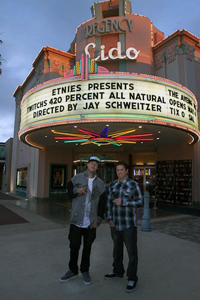 Why are you so over the contest scene?
I could still go out there and win contests if I wanted to, but I don't feel that urge anymore. When I go to contests now I'm like, "Hmm, whatever. I just want to have fun." But I've worked for 15 years to build my name up to where it is, so I'm not gonna sign up for a bunch of contests I'm not really feeling and go out and get beat by these new dudes -- dudes that have only been riding a bike for three years but they're out there trying to make a name for themselves and they'll do anything they need to do to do it -- and make my name lose value by losing freestyle contests to them.
I'll still compete and I'll ride Best Whip and Step Up and Speed & Style at X Games because that's still the biggest platform for us and for our sport and for our sponsors. But as far as other contests go, I've been there, done that. I'm over getting judged. I'd rather just go out and ride and have fun, and when I got to that point that's when I realized what I really wanted to do was just make freeriding movies. I also want to help other dudes have freeriding careers, because there are a lot of us who don't find riding contests fun anymore. We'd rather be out riding in the hills with our buddies and shoveling jumps, filming it and putting out videos. I feel like this is my next path on my motorbike.
In December you were host to the Riders Above Dirt amateur event at Pala Raceway and have been really vocal in your support of amateur FMX. Are there any unknown or underrated riders in the movie who you think are going to be getting some new attention once people see them in action?
The most underrated dude in my movie is Tyler Beremen. He's a young amateur racer just getting ready to go pro, and the kid has so much natural ability on a bike it's crazy. I was like, "Yo, you've got to come with us to go film," and he just came out and killed it.
My buddy Andy Bakken grew up racing supercross, and he has one of the sickest parts in my movie. Nate Adams has a dope part, too. For all he's accomplished in FMX, Nate's never really been known for freeriding. But over the years he's been freeriding with me more and more - every time I go out in the hills I'll give him a call -- and he's off the chart now, out there hanging with everyone, jumping everything. He has mad style out in the hills.
I think a lot of people will be surprised by how many good shots everybody got for this movie, and I want to thank everyone that was a part of the movie or was in the movie, and each of the sponsors who made it possible. This has been one of my dreams come true.
What's up next for you?
I want to come out with another freeride movie and really do it up, and I'm already working on some things … it's all a little secretive right now, but when there's something to announce I'll let you know.
And we'll see you at X Games this summer?
Yeah, yeah. I'll be at X Games for sure. I've been getting my bike right and riding every day, twice a day, just getting that grind on. Just because I'm focused on freeriding right now doesn't mean I don't still want to go out and get some gold medals.