BMX vert, street, park and industry legend Mat Hoffman is among the recognized inductees into the 2012 National BMX Hall Of Fame, which also includes pioneer BMX racer John Palfreyman Jr., BMX racer Eric Carter, BMX photographer Windy Osborn and the 2008 United States Olympic BMX team. Hoffman is being inducted under the "BMX Freestyler" category.
The 2012 inductees will come together under the Olympic Flame at the US Olympic Training Center in Chula Vista, Calif. on June 16, for the 2012 National BMX Hall Of Fame Induction Ceremony and Dinner.
Hoffman, who was either skydiving or clicking cancan lookbacks on his backyard vert ramp, was not available for comment. His contributions to BMX freestyle, should go without saying. But since some of you out there may have arrived on the scene after Mat stopped competing and underwent years of issues with his shoulder and knees, let me try to summarize everything Mat has done.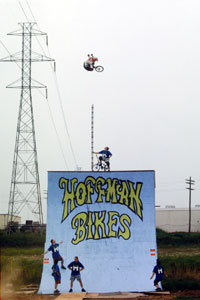 If you ride street and grind handrails, you have Mat Hoffman to thank for being the first BMXer to grind a handrail on a BMX bike. If your bike's frame and fork last more than a year, you have Mat Hoffman to thank for being among the first riders to explore new technologies in BMX frame and fork manufacturing. If you've been able to buy a modern, complete BMX bike at an affordable that is expertly spec'd, you have Mat Hoffman to thank for being among the first BMXers to explore new complete bike opportunities in the mid '90s. If you've competed at a contest anytime between now and the early '90s, you most likely have Mat Hoffman to thank for being the inspiration behind keeping homegrown BMX contests alive (not to mention getting BMX into the X Games). And, if you've ever done a candybar air or one of the hundreds of tricks listed in the "Tricktionary" section of Mat's book, The Ride of My Life, you have Mat to thank.
Basically, Mat Hoffman, now 40, shaped the course of nearly every facet of BMX freestyle and beyond between the mid '80s and now. And because of his lifelong contributions to riding, the National BMX Hall Of Fame is now honoring Mat, which is awesome. But let's face it, at the rate of one "freestyler" per year getting inducted into the National BMX Hall Of Fame, it's going to be a very long time, if ever, before we see the likes of luminary talents such as Dave Voelker, Kevin Jones or Vic Murphy being inducted.
And for that reason, I propose turning my detached garage in Redondo Beach, Calif. into a BMX Freestyle Hall Of Fame. Not really. But in all seriousness, the idea for such an institution has been kicked around, and I for one would like to see it happen so that some of the more influential riders of the past 20-35 years, someone like John "Luc-E" Englebert, can have his due from a very grateful BMX audience.
Not to take away from the National BMX Hall Of Fame at all -- they do a great job and it's awesome to see Mat Hoffman recognized for his efforts. If you're interested in attending the 2012 Induction ceremony and dinner, tickets can be purchased online no later than June 7. Tickets for the second Annual National BMX Hall of Fame Golf Tournament are also being offered to the public, meaning I have now completed my lifelong dream to write a blog that included both Mat Hoffman and golf.