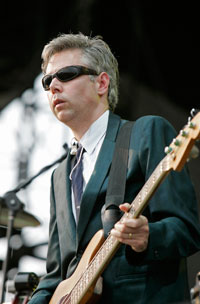 Members of the action sports community mourned the death of Beastie Boys founding member Adam "MCA" Yauch on Friday. Yauch died early Friday at the age of 47 following a three-year battle with cancer, according to the Associated Press. He had been diagnosed with a tumor in his salivary gland in 2009.
"Goodbye MCA, we will dearly miss your old school flow," tweeted Tony Hawk, who famously skated to The Beastie Boys in the Birdhouse Skateboards video "The End."
"Rest in peace to one of the best -- MCA. You inspired me and millions of others," said BMXer and action sports personality Rick Thorne on Friday morning.
While not directly related to the BMX and skateboarding communities, the music of the Beastie Boys was often celebrated alongside BMX riding, snowboarding and skateboarding. Music from The Beastie Boys was featured in legendary skate videos such as Plan B's "Questionable" and Birdhouse's "The End" and in BMX videos such as S&M Bikes' "44 Something," Standard Bikes' "Fat Ones," and Metal Bikes' "Dead Bang," among others. Yauch also worked alongside former BMX rider, skateboarder and film director Spike Jonze in the 1994 music video for the Beastie Boys song "Sabotage."

The Beastie Boys were also featured skateboarding in the video for "Fight For Your Right-Revisited" in 2011.

Vision released a signature Beastie Boys skateboard deck in the 1980s. Later, Think Skateboards released a signature Beastie Boys deck for the release of the "Check Your Head" album, followed by New York City's 5Boro Skateboards releasing a limited-edition Beastie Boys deck in 2005.

An avid snowboarder, Yauch was remembered by friend and snowboard legend Mike Ranquet on Facebook on Friday. "I spent a lot of time and traveled all over with that dude and I'll miss him dearly. I'll always laugh when I think of our trip to Vietnam, we were the two funniest dudes on the planet for those four weeks. RIP Adam," wrote Ranquet.

"RIP to MCA of the Beastie Boys. I grew up listening to them and they will always be one of my all time favorites," tweeted professional snowboarder Louie Vito upon hearing the news.

In a 2006 chat with SportsNation, Yauch attested to his affinity for action sports during his childhood. "Many of the sports I did growing up were skateboarding, swimming, skiing. I was not into competitive sports, and I started playing basketball when I was 20," said Yauch.

Yauch co-founded The Beastie Boys in 1979 alongside Mike "Mike D" Diamond and Adam "Ad-Rock" Horowitz. The group catapulted onto the rap scene following the release of the seminal album "Licensed To Ill" in 1986, followed by "Paul's Boutique," "Ill Communication" and "Check Your Head."

xgames.com