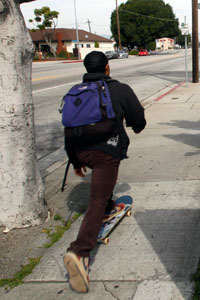 Skateboarders who like to go fast downhill on the city streets of Los Angeles will soon face stiff penalties and could have their skateboards confiscated.
With an unanimous vote on May 2, the 12 members of the Los Angeles City Council directed City Attorney Carmen Trutanich to draft an ordinance that would essentially require skateboarders to follow the rules of the road, including stop signs and traffic signals, and impose a speed limit of 25 miles per hour.
Councilman Joe Buscaino, who represents the harbor district around San Pedro, introduced the proposal, he said, in response to the recent deaths of two teenage skateboarders. Specifically, he wants to deter skateboarders' intentional speed runs that sometimes involve weaving through automobile and pedestrian traffic, an activity that skateboarders call bombing hills. In addition to issuing tickets to offenders, Buscaino added, "We're looking at [having] the officers impound the skateboards after the citation is given, so that the parents can go to the police station and recover the skateboard," according to the Los Angeles Times.
Also troubling for skateboarders was Councilman Richard Alarcon's amending motion asking the departments of transportation and public works to brainstorm ways to structurally prevent hill-bombing on city streets and sidewalks. Municipalities and private businesses have long installed "skate-stoppers" along ledges, benches, handrails, and other cityscape features targeted by skateboarders.
Alarcon told ESPN.com that guardrails and speed bumps could be used to prevent skateboarders from riding streets and sidewalks, and could accompany signage for the new ordinance.
"Skateboarding is here to stay," said Alarcon, who's cousin, Richy "The Brown Bomber" Carrasco, is a competitive slalom racer. "But I'm not sure that skateboards have a place in the street. It's very serious when young, talented lives are lost; we have to respond."
"I grew up in Malibu, bombing all those hills," says Dave Hackett, 51, a competitive downhiller and former world champ. "For them to throw down a law and try to stop us from skating down a hill would be like saying you can't go down a hill on your bike. Skateboarding is a valid form of transportation and we should have full use of the road, just like cyclists do."
Alarcon estimated that the city attorney could have an ordinance drafted within 60 days, and that the new law could be in place in 6 to 12 months.
Last fall, the northern California city of Capitola tightened its restrictions on skateboarders -- including expanding the beach town's "no skateboarding zone" -- in the wake of a 17-year-old skateboarder running a stop sign and killing an elderly pedestrian in the crosswalk.