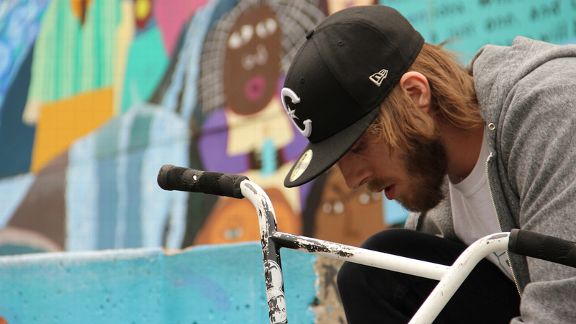 I've never actually met Lee Hopkins. We have numerous mutual friends and live pretty close, yet the official meeting has never happened, which, I guess, is fine; you could call me an observant fan. Whenever I see a photo or footage of Lee riding, I'm psyched. He has a style that quietly reminds you of his early days of riding ramps in New Hampshire mixed with an undeniable contemporary flavor. In particular, Lee's recent Bone Deth web video was great and further emphasized how awesome his riding is, and always has been. Read on to learn a little more about the Boston via New Hampshire transplant that has been killing New England streets for the better part of the past decade.
ESPN.com: How did you getting on Bone Deth come about?
Hopkins: I've know Sean Burns and Husky Diamonds (Shajn Raines) for a long time. Burns and I first met back when we were filming for Matt Busby's video "Off the Map." The first ever Bone Deth jam or whatever you wanna call it, him and I drove down to Philly to stay at Tom White and Paul Horan's house to build the event. We spent a week gathering trash, piling it on top of his car and somehow managed to collect enough rubbish to build the whole thing. We always stayed in touch riding over the years, then when I moved down to the Boston area from New Hampshire, Burns ended up moving into my place in Jamaica Plain for a while. That summer they were finishing up filming for "Surfing for the Ugly Broads," the Bone Deth DVD. At the same time I was filming for the first 90East DVD and I helped them out with a lot of filming. So when everything started rolling and they made the switch from a T-shirt company to a full blown bike company, they asked me if I wanted to be a part of it all. To me it was a huge honor. We had known each other for years, I've been into what they were doing since day one, we all ride together most every day and it just seemed to be a natural fit.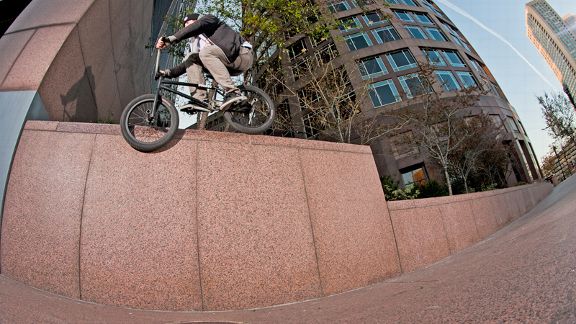 You're from New Hampshire, a state which has produced some great riders: Clint Reynolds, Aaron Smith, Josh Heino. Now you live in Boston, how would you say riding in NH compares to riding in Boston and how has it shaped the way you ride now?
The part of New Hampshire that I grew up riding didn't have a whole lot to offer, so most of the stuff I rode were things my friends and I made like backyard ramps, trails, small concrete parks, or we'd be out searching for random street spots to ride. Now living in the city I roll by more "spots" going to get a coffee than what I had my entire youth to ride. I think that if anything, I learned from riding around New Hampshire for so long was not to take things for granted and I don't mind a crappy run way or a rough landing because most of the time I didn't have options. I appreciate the city and everything that is here to ride, whether it be a curb cut or the set up you've been searching years for.
In addition to riding and working, you also run Orange Line Project, a site that produces original web videos, photos, and news about the scene in Boston. What prompted you to start a project like that?
I started the site as an outlet. I've always been interested in videography/photography, building websites etc. So this was kind of my excuse to learn some of these things in a hands on fashion. Also, at the time I started the site, a bunch of us were filming for different video projects. Most of the edits came from footage lying around that didn't make the cut for a video, something that was filmed for fun and I'm always meeting different kids around the city who might not ride for a sponsor or be filming for anything. None of the edits are intentionally filmed for the most part. I also thought it'd be a cool forum to showcase the lifestyle based around riding in Boston, the people that roll through town, and other web videos and events from the area that wouldn't make the front page of more popular BMX Sites.
I'm super psyched on that newer Bone Deth video you came out with. I like that, while I totally see your fit on the team, your style sort of transcends that of a typical "Bone Deth" style, if that makes sense. How did you come to riding the way you do, what or who are some of your influences?
One of the first videos I ever owned was Base Brooklyn's "Neighborhood Superheroes." Watching Will Taubin, Ralph Sinisi, George Dossantos, and all those guys ride the city was a serious influence on my riding. I also take a lot from my friends and the people I ride with on a day to day basis. Growing up we all made a point of riding everything from trails to ramps to pools to street. So I guess all of that in some way shape or form is the reason I ride the way I do.
Totally. I think a lot of kids see just "street" videos today and think that is all they can ride, I think it can have a negative effect on their riding. Do you spend time riding trails or ramps now?
I used to ride ramps all the time. I'd always be riding the Hopkinton Skatepark when I was younger. It used to be a lot of fun traveling around to different parks. Now I maybe go to a skatepark once or twice a winter just to roll around. I haven't touched a set of trails for at least seven years. I respect trails and ramps a lot, but nowadays I'm just not as into riding them. I think that when I was younger and I was riding trails, ramps, and street, I was a better bike rider, there's no doubt about it. I think no matter what type of riding style you are into, if you ride things outside of your regular environment, you'll learn from it and a lot of those skills transfer to other styles and types of riding.
You're also part of the 90East crew. How did your connection with Lino and the whole crew come about? It seems like Lino has done a great job at building a scene around Boston street riding.
I've known Lino for a long time, we went on a few Standpoint trips together back in the day and became good friends. I rode for Mass Transit (the precursor to 90East) back in the day while he had that going. Over the years, we had lost touch a bit mostly because I was working a lot in New Hampshire. But after I moved down to the city, we bumped into each other out riding, caught up a bit and started chillin' again. Also that same year, I'd always bump into Abdul (Fofanah) and Jake (Frost) down at Copley, so over time we all became good friends and ride all the time.
Between Lino, OLP and Bone Deth crew, Boston seems to have a really strong scene right now. Who are some of your favorite people to ride with? Who gets you psyched?
I don't know if there's any one or few people that are my favorite to ride with, I think everyone in the city right now is on it. It's dope to have so many people in one place that are just out to ride, have fun, explore the city, and film. I try to ride with as many people as possible. Obviously I love riding with any one of the Bone Deth dudes or any one of the 90East dudes. Everyone has a different eye for riding but we all manage to ride together as much as possible and it makes for a really good time. Abdul is always out pedaling around with an insane amount of energy. The kid is non-stop, it's dope to be around and it keeps me wanting to learn more, progress, and not take things so seriously. Being able to meet up and ride with Burns so often is an education, the dude has been on it for so long and is still progressing and killing it on a regular basis. It's wild to see and he pushes me a lot, which I think is important. Some days I'll meet up with Lino and cruise downtown till late, riding all the spots that are mobbed with business people during the day. Other days I'll go meet up with (Kevin) Botsch (Bone Deth Party Man) or (Matt) Busby and lurk around Copley from coffee spot to coffee spot and ride whatever is along the way. Some days I'll meet up with Husky Diamonds (Shajn Raines) and he'll bring me on a wild spot hunt to film some outrageous escape line off a bridge through someone's living room to gap over their front porch and home entertainment center. Other days I'll just chill with Frost and cruise around all day. Plus Aaron (Smith) is in and out of the city a lot lately, he's a motivator for sure. There's also so many other "crews" like the Hell Hole guys, Maul's dudes, Tables and Fables crew and all the South Shore cats and kids that ride in from different areas around the city that'll meet up. Plus, there's always visitors rolling through on trips, or coming up for the weekend. All of my friends keep me motivated in different ways. I'm really fortunate and grateful to have the friends I do and so many people to ride with on a day to day basis.
Also, stepping away from a BMX viewpoint, who or what do you find inspiring?
My girl, Sussan, she keeps me motivated and supports me in everything that I do. I'm always influenced by music, different types of art, the work that other people put out, I keep an eye on the skate scene, a lot of those guys put out some unreal quality video stuff. Also, just living in the city. I grew up in the woods so being able to live and be around the city all day every day is definitely a motivating/inspiring thing for me.
You can keep up with Lee on his site, Orange Line Project.