With three of the last four Supercross wins under his belt, and 710 USA Cycling Power Ranking points already under his belt, Connor Fields is unofficially the first member of the three man (and two woman) U.S. Olympic BMX Team. The first position awarded for the Olympics is from the Power Rankings, which are based on the results from the UCI Supercross Series, not counting the time trials. First place at each event is worth 200 points, with second counting for 160, and third 140.
There are two races with different point schedules though -- the USA Cycling National Championships (which Fields won and gained an additional 30 points for) and the World Championships (where a first place is worth 300 points, second 250 and third 200.) Following up Connor Fields in a distant, but mathematically possible takeover position is David Herman. Herman has managed to make the final event in three of the last four races and was on the podium in third at both Chula Vista events. He currently has 485 points in his pocket.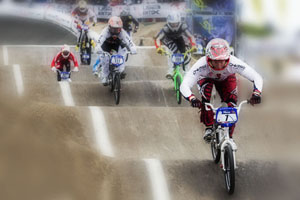 Though Connor has a comfortable lead, he has said that he wouldn't let this effect him. Fields has stated in the page that he goes to race to win, and not simply defend his position in the points ranking. Fields, along with Great Britain's Liam Phillips, are in a rare class of their own. Despite being in extremely good positions in overall points, Fields and Phillips return each weekend and race as if their lives depended on it (as we saw in Phillips fabulous explosion of a crash this past weekend in Norway.) For now though, Fields can feel a little more confident in himself and his skills. Eariler this week, he was asked to join fellow Olympic hopefuls from different sports for an autograph session at the NBC Experience Store in Rockefeller Center, New York.
Fields will return to the race circuit for round three of the 2012 UCI Supercross series in The Netherlands in May.