On Monday, Alli Sports Group and the NBC Sports Group announced big changes ahead for the Dew Tour, consolidating the six Dew Tour and Winter Dew Tour events into a three-stop tour. The new tour will feature a "Beach" event in Ocean City, Md., August 16-19; a "City" event in San Francisco, Calif., October 18-21; and a "Mountain" event, December 13-16 in Breckenridge, Colo. Mountain Dew, the title sponsor of the Dew Tour since its debut in 2005 and of the Winter Dew Tour since its debut in 2008, has renewed its partnership with Alli Sports to present the events through at least 2015.
The Dew Tour was originally conceived to bring a season-long arc to action sports competition, with cumulative scores from individual events building to an overall season championship, at a time when major pro action sports events were isolated and were few and far between. The changes announced on Monday mark a shift in focus to themed individual events.
"The action sports landscape has grown and changed dramatically since we launched the Dew Tour in 2005," explained Wade Martin, president and CEO of Alli Sports, in a statement on Monday. "The multi-stop series format was what the industry wanted and needed then. The Dew Tour changed the industry forever, taking the sports to a whole new level. The new Dew Tour, which will include three major events across Beach, City and Mountain venues, represents what the athletes and industry want and need today."
The change is being welcomed by most athletes: Skiers and snowboarders competing on the Winter Dew Tour, formerly a three-stop series, were finding themselves juggling an increasingly crowded competition schedule, with even more new events on the horizon as the new FIS Olympic qualifier system for slopestyle and halfpipe events gets underway. The skateboarding schedule has gotten similarly crowded, with several new contest series emerging in recent years including the Street League and Maloof Money Cup competitions. And the Dew Tour had all but phased out freestyle motocross competition in the last two years as the Red Bull X-Fighters series and the FIM Freestyle MX World Championships have expanded. The Global X Games franchise will also be expanding to a total of six events in 2013.
"We're always evaluating the industry and the other events out there and really felt it was best to do less events but have them be bigger, better events," Chris Prybylo, general manager of the Dew Tour, told ESPN.com. "A lot of the athletes feel that way, and a lot has changed in the seven years since we launched. Now we're looking forward to creating premium events in unique settings, elevating and evolving our events. We'll be uplifting everything from the television production to the competition courses and really looking to take an approach to develop great individual events with unique, distinct identities, and really continue to progress action sports. We'll continue to have our core disciplines -- skate and BMX, skiing and snowboarding -- and, while we're not unveiling everything just yet, we're also going to be adding some new disciplines to the mix at each event, so that each locale will really stand out and have its own feel and personality."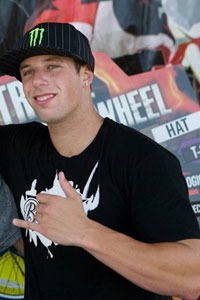 BMX athletes will be hit hardest by the changes announced on Monday: The summer Dew Tour events -- including BMX Park, BMX Vert, and BMX Dirt competitions -- had become the core of the BMX competition season over the last decade.
"It's not a surprise to anyone who has been in the game for a while," Mike Spinner, who finished second overall in BMX Park on the Dew Tour in both 2007 and 2008, told ESPN.com. "Everyone who's older had told me, for years, 'You know, eventually some of this is going to go away.' That's just how it is: You see the contest scene come up and down. Remember the Triple Crown? The ASA events? The Dew Tour's one of the best things ever to happen to action sports and it's certainly been the best thing that's ever happened to me, but I don't think it's the end of the world that it's scaling back now ... I love the Dew Tour and I'll always work with them and help them out any way I can, so above all I'm just stoked that it's going to keep going for at least another four years." 
Erica Pergament, senior marketing manager for Pepsi Sports Group, says it's a mistake to view the consolidated tour as "scaled-back," noting that the new tour actually marks an increase in investment for the Mountain Dew brand, which has made action sports a centerpiece of its brand DNA.
"It's definitely not a scaling back," Pergament told ESPN.com. "We've increased our ownership and control with the Dew Tour property, and we've worked with Alli Sports to become a co-creator of the tour, much more than just a sponsor. Our mantra during this entire process of developing the new tour events has been 'fewer, bigger, better.' This is going to allow us to focus on really building out some of the biggest and best events that we've ever had."