Flip Skateboards has always had an uncanny ability of finding the most talented skateboarders in the most distant of regions. But when they unearthed Bastien Salabanzi in Marseille, France, back in the 1990s, they discovered arguably one of the most talented skaters to come from outside the United States.
Bastien possessed it all: tech gnar tricks, smooth style, perfect bolts landing. The problem was he didn't play well with others. Or at least didn't feel the need to play with them at all. He chose to focus on the act of skateboarding rather than acting like a skate celebrity while living in Southern California.
His time with Flip ultimately came to an end in 2006 and he vanished back to his homeland of France. Occasional photos and interviews of him surfaced but he remained rather recluse up until a few years ago when he made a surprise appearance as a contestant at the NYC Maloof Money Cup. He returned last year and, in my opinion, could have taken first place at the MMC in Washington, D.C.
Back in February a 2½-minute video of Bastien skating his hometown park popped up. The skating was flawless. Everyone was quickly reminded how good he is. On Tuesday morning, his audition tape for Street League was posted on the DC Embassy. Jaws dropped. There was no need for Salabanzi to give himself self-props, I believe he could hear everyone around the world applauding for him.
I hit him up immediately, via Skype, to see what's been going on with him while he watched his children in Bordeaux.
ESPN.com: You have two kids. Does your 4-year-old cheer for himself like you do?
Salabanzi: Ha. Yeah, sort of.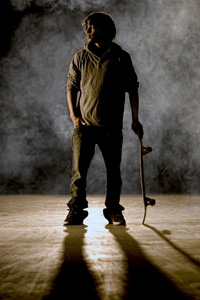 Why do you get so much grief for doing that?
It's skateboarding. The cool attitude is to do the gnarliest thing and make it look like you do it every morning on the way to go get the bread at the store, like the trick is completely normal.
I don't really care. I don't want to be someone else. It makes me happy when I land something. But I can understand from an outside point of view, maybe from someone who liked to watch skateboarding but never really did it hard they cannot relate to that kind of behavior.
For example, a lot of people talk about John McEnroe, that the guy is insane and he goes mental on the court but at the same time people agree that he was one of the best that has ever played. I'm sure he doesn't care his reputation is to be completely crazy. What he cares about is the number of tournaments he's won.
What do you put the importance on?
At the end of the day I don't want to be remembered as a cocky lunatic. I started skating in 1994. Today I watched the 12 minutes of footage from when I was a little kid and that's when I was having so much fun and not caring about no industry or sponsors. I was just having fun and loving skating. That's how I want to skate, to have fun and skating the way I want to skate like when I was 13.
I'm happy with the road I took and the way things happened; I don't regret anything. But I do understand the people that find my behavior too much, at the same time I don't care. I'm 26, I learned and I've evolved and think different. When I see my behavior at a contest from years ago I laugh so hard and think, "Wow, I was a little bit crazy."
Aside from your children what keeps you in France instead of coming back over to the States full time?
The thing that really keeps me away from the States is that I didn't find the right place over there. Southern California I really have to kick my butt to get on the plane to go there. It's really hard.
I'll go there for a contest, I leave the contest and I go to the hotel, if I'm lucky it'll have a 7-11 on the corner where I can get some junk food and that's about it. I'll just sit on the bed and watch TV until the next day. There isn't much to do for me there. I don't have my American driver's license anymore so when you don't have a car in Southern Cali it's like you're in a wheelchair in the middle of Paris.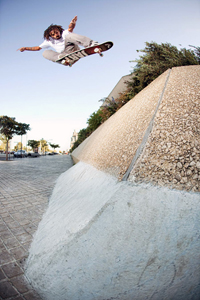 Everything is a mission. It's a mode you have to put yourself in and I was able to back in the day with the Flip team. You're on missions; you don't care about spending five hours a day in the car because you're in that footage and photo mode. I did that for six years and I'm happy of what came out of it, the two Flip videos and the covers I got for Thrasher and Transworld but I don't picture myself having that lifestyle anymore of being between a traveler and homeless.
A friend of mine said, "What if you go back to the States but you bring your family. That could give the balance that you missed." For sure that would do it for me. I'd be able to be in the industry with all this madness around but as soon as I open the door I have my family and my kids around me that could do it. But that's not really an option.
The skateboard industry is a lot like high school and you didn't seem to want to be a part of that. Do you feel that people in skateboarding hold a grudge against you for not bro-ing down? I look at a case like last year's Maloof semifinals in D.C. I love Ronnie Creager but in my opinion you beat him. When I asked the judges what they saw that I didn't, they said you put your hands down a lot. First off, it's a contest; everyone hand drags. Secondly, you had been skating that way all day but your tricks were harder. I feel like you got done dirty.
I don't really see a reason why that could be true, what I think was that when I was living in the States I had a hard time with the politics, being friends with the right person or being at the right place at the right time so everyone can see you there. Especially when I'm 15, I'm like, "I get paid for what I do on my skateboard. I'm not a red carpet freak that looks cool at the right place like those dudes that promote movies."
For example, for the Thrasher's Skater of the Year when Tony Trujillo took it and I got second people were like, "We should go to San Francisco to hang out with those dudes and be at the party and be friends." I was like, "Are you serious? Come on. I love Jake Phelps but I'm not going to go by Thrasher to high five everybody."
Probably people shook their heads and thought I was stupid but for me it's not stupid. If I don't feel comfortable with something or it goes against my morals then I'm not going to do it. Even the Skater of the Year trophy is not worth it. I prefer to stay real. Trujillo deserved it; he skated great, I'm happy to be second. There are so many great skaters and they thought of me and Tony for Skater of the year, that's awesome, let's move on.
But I don't believe in America the industry feels some kind of negative feeling about me because the first Maloof I did in New York I got a really warm reception and the crowd was stoked to see me back on the American soil. I didn't know what to expect. It was already years and years I was gone, like six years, and it was so cool to have everyone so happy to see me.
You know how it is, there's so many new riders always coming out I thought maybe they didn't even remember me but I was wrong. That was cool. But I don't think I got ripped off against Ronnie Creager. It was a very, very close run. When I was done with the session against Ronnie I was not satisfied with my skating, I wanted to do better. I was not surprised that it wasn't enough. At the end of the day I'm comfortable with how it turned out.
I recently saw a clip you put out at a skatepark in Bordeaux. Was that all in one day?
That's my hometown. That's where I live. That's my local park. Yeah, it was all in one day only the tre flip nose manual was the week before but the rest was just one session.
Are we going to start seeing more of these clips from you this year and possibly more of you visiting the States?
Yeah, for sure. The DC Embassy skatepark in Barcelona organized a Street League qualification filming session where they invite the 12 best pros in Europe and we have one day, 12 hours, to film the best video part and the winner has the ticket to go to the Street League. There are some really good guys invited. I skated there three weeks ago and my footage is posted today and then people on the Internet vote on April 24 at the DC Embassy site. The winner is going to the States so I cross my fingers.
Other than that I'm finishing filming for the Jart video they started the editing already so we have about two more months until it's done. I'm going as much as I can to Barcelona, to the South of Spain, Bordeaux, Paris, everywhere to finish my part.
Is it true that there's a lost Bastien part out there somewhere?
Yes, there is. Ewan Bowman [Flip filmer] had a lot of footage, maybe four or five minutes, from 2006. I'm wondering what happened to all this footage. That would be cool if I could have the footage one day. Not to use them but just to have them.
Watch Bastien's DC Embassy footage here and vote for him next week.