French rider Remi Bizouard extended his overall lead in the 2012 FIM Freestyle MX World Championships this weekend in Basel, Switzerland for the fifth and sixth rounds of the international series, beating out French rider Brice Izzo and Czech rider Libor Podmol on Friday, then finishing second behind Podmol on Saturday.
On Friday night the Jakobshalle Arena belonged to Bizouard, a two-time FIM champ, pushing well ahead of Izzo and Podmol thanks to big tricks like a cliffhanger flip, ruler flip, switchblade flip, and Hart attack flip. Bizouard has finished either first or second in each round of the 2012 FIM series, but Podmol, the 2010 FIM champ, still managed to find an opening.
"I made one mistake on the double-up, so I've got to focus on my riding, try to get better for the next round," Bizouard said on Saturday. FIM competition rules allow each rider one bonus trick worth double points after the buzzer; Bizouard decided at the last moment not to go for the new 360 that helped him win previous FIM events this year in Torino, Italy and Berlin, Germany.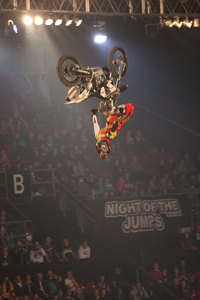 Podmol's run on Saturday built to a crescendo as he put together a run featuring huge combos like a heel-clicker to Indian air backflip, double can-can backflip, underflip indy, and chliffhanger to no-hander lander, then finishing things off with a massive whip rflip Indian air for his double-up trick.
"It feels great, and I'm just very happy that I put it all together today: Yesterday I had mistakes and today when I went into quali I really was just telling myself, 'Oh, dude if you're going do mistakes again... I'm going to smash my head through the wall or something,'" Podmol said, after Saturday's podium presentation. "I'm super happy. I'm stoked. I'm looking forward to our party, you know, and happy that it's all done.
The win helped Podmol close the gap with Bizouard: He now has 102 overall points in the series, behind Bizouard's 102.
"I'm going to practice hard and hit the foam pit," Podmol said. "I want to get it this year again and just try to my best. Hopefully tomorrow will be better than today -- today was great -- and just hope for the best."
Javier Villegas, the defending 2011 FIM champ, missed this weekend's competition due to a schedule conflict with the Red Bull X-Fighters opener in Dubai, where he made the podium in third place on Friday. In his place, Villegas' younger brother Gabriel made his FIM series debut this weekend, making the top-ten cut in qualifiers and taking second place in the Best Whip contest on Friday.
The 2012 FIM Freestyle MX World Championships continue on April 28 in Munich, Germany.
Round 5 Results
1. Remi Bizouard (FRA) 405
2. Brize Izzo (FRA) 391
3. Libor Podmol (CZE) 386
4. David Rinaldo ((FRA) 385
5. Massimo Bianconcini (ITA) 331
6. Hannes Ackermann (GER) 315

Round 6 Results
1. Libor Podmol (CZE) 415
2. Remi Bizouard (FRA) 396
3. David Rinaldo (FRA) 390
4. Brice Izzo (FRA) 385
5. Martin Koren (CZE) 346
6. Hannes Ackermann (GER) 341