Mike "Tag" Tagliavento, lifelong member of the FBM BMX team, co-creator of seminal BMX videos such as "1201," co-owner of S-Luck Clothing and all-around amazing bike rider on street, dirt and skateparks, died Friday, April 13. He was 37.
For the past year, Tag, as he had been known by friends, family and the BMX community for the past two decades, had been battling Non-Hodgkin's Lymphoma. Following intense chemotherapy and an outpouring of support from the BMX world over the past year that included fundraisers ranging from signature Tag hats to jams at Ninth Street in Austin, Tag ultimately succumbed to the disease in Ithaca, N.Y.
Mike Tag played an integral part in elevating the status of dirt riding, street riding and video production throughout the early '90s and into the '00s. Mike was one of the first riders to really focus on the art of searching for spots, and for years, Mike traveled the world with his FBM and a video camera in search of elusive rails. Mike Tag's riding and filming has been featured in over a decade of FBM videos, as well as countless issues of Props, Road Fools and etnies "Forward." And Mike was the first rider to receive a signature frame from FBM, the Night Train.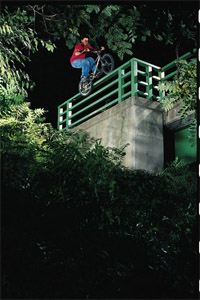 Pushing objective editorial in the name of friendship aside, I first met Mike Tag at one of the first Toronto BMX Jams in the late '90s. Then referred to as the "Battle of Elsinore," Tag entered the indoor pro dirt comp against Nate Wessel and Jay Miron in a pair of Dickies pants, an FBM t-shirt and no helmet. He rode amazingly well, until some sort of no-footed half barspin thing came up short, catapulting Tag over the bars as his bike miami-hopper'd into the landing. He shrugged his shoulders and disappeared from the spotlight.
His riding in Toronto was finished, but his hijinks continued. Later on in the day, I vividly remember speaking with Steve Crandall as the sound of broken glass continued to emit from behind a partitioned barrier near the contest area. A few minutes later, Tag and friend Andrew Forgash emerged, half-smirking, after breaking an unopened box of those long, cylindrical fluorescent light bulbs behind a curtain. He wasn't breaking the light bulbs to create a scene, he was doing it for his own entertainment.
A murky cloud of fluorescent destruction remained behind Tag as he was shuttled away by security, out of the building, still with his trademark half-smirk proudly worn on his face. Over the next decade and a half, I would come to see that meeting as a metaphor for Mike Tag's way of life, one that carried over into calculated pool playing, burly street riding and anything that lay in Mike Tag's path. He came, he saw, and his path of destruction was never forgotten. All for the sake of a half-smirk.
Rest in peace old friend.