Jack Given is 21-year-old chap from Lafayette, Calif. He rides for Blood Wizard Skateboards and Heavy wheels and bolts.
He's got a smooth backside air, a level head on his shoulders and can grow a mean beard.
Unfortunately we didn't talk much about his beard-growing skills or any plans to begin competitive bearding, which in hindsight could have made for a more interesting interview. But alas, we just stuck to what he does best, shredding on a board and drumming in his band.
ESPN.com: How is it riding for a smaller company like Blood Wizard?
Given: It's pretty killer to be riding for a smaller company where everyone is riding together and everyone is friends. It's good too, because we got different people in different areas like Aaron Herrington in NYC, Chris Gregson and Drew Dezort in San Diego, and Jerry Gurney in Yuba City. I'm always down for Blood Wizard.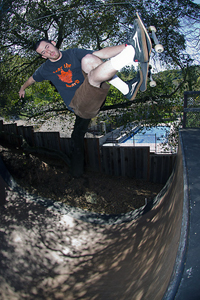 How is it being on the same company that Chris Senn rides for?
It's awesome, I mean to have watched his parts and to get to ride on the same team with someone who you'd looked up to. He was Thrasher's Skater of the Year, you know, he still gets out and has been on some trips with us. Now he's a tattoo artist, I got a tattoo from him.
What is it?
A skeleton in a coffin playing a guitar, it's on my ribs, it hurt like hell.
What projects are you working on?
Gonna have a short little part in the Kobrah video coming out and the Blood Wizard video is in the works.
Tell me more about the Blood Wizard video.
It's called "Wizard Bloody Wizard." The process has been the same as all other videos, where they set a date and everyone kills themselves to get tricks right before, then when that date comes they set a new one. I think we just got a new date. I'm looking forward to Jerry Gurney's part, also Chris Gregson's.
What's Mike Manzoori's involvement with the video?
He makes us look good! I think his involvement and friendship stems from when he was pro from that old company Adrenalin Skateboards with Senn and Toad [Antonius Dintcho]. He's the best skate filmer, it's awesome to have him helping out. He had a shared part in the last video with Toad.
Terry Kennedy in "Baker 3" and Brandon Turner in "Guilty" used their own music for their video part and even Todd Congelliere's part in the Union video back in the early '90s skated to his band FYP. For the new Blood Wizard video do you plan to skate to your band Rock Bottom's music?
I do not. I see why you would and I do tell people to listen to my band. For my part I got other song ideas but I did tell Toad it would be cool to throw our music in there somewhere.
Who are some of your influences?
A lot of East Bay skaters like Wade Speyer and Phil Shao, they are just the raddest skaters I think. For some reason they always stood out to me like in the old Think videos. "Dedication" and "Damage" were some of the first videos I saw growing up. Wade's part in "Dedication" is probably the best part ever, when you're dreaming about skating that's how you picture yourself skating.
Best up-and-comer you skate with?
Eric "Rico Suave" [Sauve], he's usually ripping the most and not even caring about getting hooked up. That really gets me hyped.
You doing any contests this year?
I think I'm going back to Sweden in July for the "Betongcupen" which means the Concrete Cup in Swedish.
Last year I went out to the cup in Malmo, Sweden, which is pretty much the biggest contest out there. John Magnusson helped get me out there, he works for Nord skate parks. After the contest I ended up staying out there for two months helping build a park in northern Sweden and this year they are having the contest at the part we built.
Last words?
Thanks to Blood Wizard, Toad, Rob [Collinson] of Lowcard, Heavy, and everyone who's down to skate.