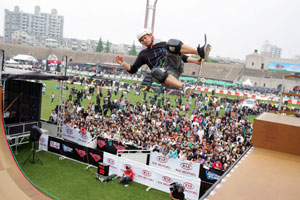 With a plan to promote skateboarding culture -- and, of course, sell shoes -- one of the oldest names in athletic footwear is stepping into the burgeoning skate scenes of Southeast Asia with the region's first brand-backed skatepark.
Skate staple Converse, which has been owned by sportswear giant Nike since 2003, recently announced its push to build a permanent skatepark in the Philippines by 2014.
"We have big dreams for the skateboarders," Kit Santos, the brand's marketing manager in the Philippines, told the Manila Sun Star. "It is not only because we are selling skateboarding shoes. But here in the Philippines, [skateboarding has not] been promoted. And we want to start because we want to promote the skateboarding culture of Converse."
"I'm relatively familiar with some of the skate scenes in Malaysia, Thailand, and the Philippines," said Neal Hendrix, 38, veteran vert pro and brand manager for Woodward action sports camps. "They have some pretty legit scenes there. It's always interesting for me because I've been to the X Games Asia for the past few years and I'm always seeing the best street guys from around Southeast Asia coming out to compete."
Hendrix, who recently left longtime board sponsor Element to ride for Mike Vallely's Elephant Brand Skateboards, added that the skate scenes throughout Southeast Asia have been growing rapidly for at least the past 15 to 20 years.
"In 1997, Mat Hoffman organized some vert demos with some BMXers and some skaters, and there were thriving underground skate scenes in each city we went to," Hendrix said. "Then I went back like five years later for X Games Asia and the scenes had gotten much bigger."
Converse's Santos said that the skatepark will probably be located in Pasig, a city of more than 600,000 located about 10 miles east of the island nation's capital of Manila.