Originally hailing from British Columbia, Canada, Powell Peralta pro Jordan Hoffart has spent the past several years living in the San Diego area. Recently, after taking inspiration from Pontus Alv's "In Search of The Miraculous" video, Hoffart bought a house in San Diego and began renovating his new purchase into a skate-able work of art, complete with indoor volcanoes, bowled corners and what Hoffart says are the sort of things skateboarding kids dreamed about while they were growing up.
Last month, we caught up with Hoffart to discuss the home renovations, the accompanying video project and every other little project he has in the works.
ESPN.com: Congrats on buying a house in San Diego.
Hoffart: Thank you.
I hear you are turning your newly purchased house into a skatepark?
I wouldn't say a skatepark. But I'm doing some "renovations" that every kid dreamed about doing when they grew up.
How are you coming up with the designs?
It's a combination of concepts from Josh Hawkins and I. We throw around ideas and see what works best. So far, every plan has evolved into something better when we actually start forming the structures.
Who's helping you construct the project?
Josh and I brought in Kyle Berard to help out. He rips at this sort of thing. Actually he just rips period. Josh is a wizard too. Two talented, hardworking dudes. We're the foot clan, building a shredder's lair.
Will you be charging admission?
That's not a bad idea considering the money I've been dropping but no, it's built to have fun with the homies. I'm guessing eventually it's gotta be controlled to some degree. I'm not about to lose everything we've been working for, because some kid heard from his homie that I got the goods, and breaks his arm in my driveway. I'm not taking any chances. If I don't know you, it's safe to say you're not welcome on my property.
I have heard about a video you are making about your house. What's it all about and who's making it?
It's my own video and concept, I kind of took it from Pontus Alv and his video "In Search of The Miraculous," where he builds that skate spot on the pathway beside the train tracks. It's such a rad idea to make a film around it. I'm following suit. He inspired me to make my dreams come alive, so hopefully I can keep the inspiration flowing to others. Basically we are filming and time lapsing the plans, and then inviting (teams) of fellow shredders to come, stay and film. The footage will be condensed into a series of montages accompanied by full street parts from Josh and I, perhaps from others as well. I'm super hyped on making this something new and exciting that kids can feed off of.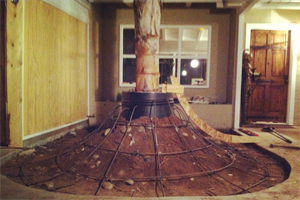 What's not allowed at your house, skatepark or in the movie?
Randoms, bad attitudes, thieves, disrespect, rollerbladers, razor scooters, foreign cameras, video poachers. That's just off the top of my head.
Are you able or wanting to have a contest at the Hoffart compound?
Nah Nah. It would get too hectic. This is my lazy Sunday shred zone with the homies. Plus it aint really set up like that. We'll see how everything flows when it's done.
You must have cool neighbors?
The coolest. But some are crazy at the same time and are quick to let you know who was there first. It's a neighborhood with a lot of history, some houses (mine included) were built in the 1950s. Gotta show respect to the neighbors holding it down for the last 60 years!
Any skate celebrities in your neighborhood? Somehow I have about six on my block.
None that I know of. Bob Burnquist lives down the street about 5 minutes though, oh and I bump into Slash's mom around the hood for sure.
Is Powell working on a follow up to "Fun"?
Yup, condensed into a promo version. Since every kid has ADD and can't sit down for more than ten minutes. You know how it goes. It should be out by September, Ooctober. "Rip The Ripper" is the name I've heard being thrown around some. Some super gnarly footage is coming your way for sure though. I've seen some clips already. They definitely ain't messing around, my knees are weary.
Any new team additions going down over at Powell?
Yup, We just enrolled Brad McClain. Welcome aboard mate! He's a monster on wheels. Straight BOWSE on tranny. We got some other pros in the works. Keep your eyes open for some new heavy hitters up on the roaster real soon.
Are you too young to know how awesome the Bones Brigade documentary was?
Nah Nah Mike. I got the Powell Peralta box set at home. That was a requirement when I got on the team. I'm sharp as nails on my Bones Brigade history. That documentary was unreal. Everyone must go see it. Respect to the original skateboarding. "Bricklayers" as Kalis would say.
Is Josh Hawkins turning pro after his "Happy Medium 2" part response?
In my eyes he should have been pro a long time ago. He's one of the most talented dudes I've ever met, period. A true professional at life. It's just a matter of months before he gets what's coming to him. Best believe that.
What else are you working on in 2012?
You name it. I'm juggling a full plate these days: entire house renovation, Powell Peralta promo, Bones video, my own home video project, Trying to wrap up a interview for The Skateboard Mag with Bart Jones. Definitely stoked for that. Oh and I'm working on a special little video project with Cameron Sanchez and 900 films for the RIDE channel which should be out in the next couple of months. So be on the look out for that. It could turn into something substantial.
Who's the first person you would want to personally invite over to skate you new skate house?
Aside from Berard and Hawkins, it'll have to be the Powell Peralta dudes for sure. If not anything else, but out of respect alone. These guys opened a lot of opportunities for me to be able to do what I'm doing. In fact I can say I owe it to them that I'm even living in California and skateboarding for a living! Praises. It would be nice to be able to share the first moments of our creation with all those dudes, I appreciate everything they have done for me.