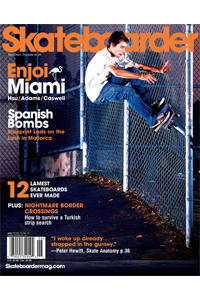 Alex Olson will always hold a special place in skateboard history because he is our first second generation pro we've ever had. His father Steve Olson turned pro for Santa Cruz skateboard back in the late '70s and Alex followed in his father's footsteps by turning pro for Girl Skateboards along with Mike Mo and Sean Malto in 2008. Alex spent his entire pro career wearing iconic Vans shoes but recently stunned a lot of people by leaving the brand and signing with the more athletic Nike SB. We caught up with Alex to see what prompted the switch.
ESPN.com: How did this Nike sponsorship come about?
Olson: Basically I was unhappy with Vans six month prior to me signing with Nike. My contract had been up but I just hadn't signed my new contract. I had some questions about my contract and they said, "Why don't you come down and we'll talk?" I hated going down to Vans, I don't like going down to Orange County. I think when my contract was up I asked Brian Anderson if he could just ask if there was any possibility of me riding for Nike. Robin [Fleming] had left Vans and I felt like a loner on the team and it wasn't making me motivated to skate. Six months passed and I still hadn't signed my contract and then Hunter [Mu] called me and asked if my contract was up and I said, "Yeah." Nike offered me an apparel and shoe contract and the timing was right and I was stoked to sign a contract with Nike.
Did Nike wine and dine you and take you out to fancy restaurants?
Oh yeah, duh. But I like all that so I'm fine with that. They got me.
Did you see this happening a lifetime ago?
No, it was more of a surprise because they said no a while ago so I was like, "Ok." I don't know why I didn't sign my Vans contract, it was in the back of my car, maybe under my seat or something and then Nike just happened.
But you were on the cover of Skateboarder in 2005 wearing Nikes.
Ha! That was when AVE [Anthony Van Engelen] rode for DC and he had a shoe collection that he couldn't wear anymore and was just like, "Here. Take these. I don't wear them." And they were my size and I needed shoes.
Do you think that Nike is just using you to get their product into Supreme?
Ha! No. But are they using me to get into other skateshops? Yeah. But every company uses a skateboarder; that's the whole point of sponsoring people.
Your first Nike ad... did you stick that first try? Or was that a couple tries?
No, that was first try.
Really?
Yeah.

I didn't sign my Vans contract, it was in the back of my car, maybe under my seat or something and then Nike just happened.
--Alex Olson
Whoa. That's gnarly.
Haha. Yeah, it was no problem.
So how has it been thus far on Nike?
Good. I like a lot of people on the team and before there were a group of people I didn't like on Vans. I'm closer friends with people on Nike. I went to China recently with them and that was cool. They wined and dined us. It was a lot of fun. It was for a big commercial that's going to come out in summer and be on TV.
Did you ask your dad his advice when making your decision between Vans and Nike?
A little bit. Yes and no. He said, "Go for it," because he knew I was not stoked.
What do you have lined up for the rest of 2012?
Are you trying to ask me what my calendar looks like?
Yeah, what are you doing Thursday night?
I'm just trying to film for the Chocolate video and be productive. I think Nike is going to make us do a video, which will basically be the Nike/Girl video since half the Girl team is on Nike.
How's the filming for the Chocolate video coming?
It's going alright. I need a lot more footage.
Do you have any footage?
Yes, I have footage! Come on! Really? What a jerk! I understand I put that vibe out but still I'm not that lazy. I don't have a full part yet; I'm trying to work on that. And if I do get a full part I'll make it by the skin of my teeth.