[Editor's note: Michelle Parker just finished third at the Red Bull Cold Rush contest. Prior to heading to Silverton for Cold Rush, though, Parker was in Haines, Alaska, filming with Matchstick Productions. This is her take.]

Haines, Alaska, is an intimidating place to be. I was there recently filming with Matchstick Productions alongside my Mountain Hardwear teammates James Heim and Samuel Anthamatten, both no strangers to big mountains. Amongst those two, I was certainly the rookie of the group, but they were more than helpful in giving me advice.

When it's cloudy, you sit and wait, occasionally peeking out the window in hopes of better weather. When it's sunny, it's on and before you know it, you're standing on top of the biggest line of your life looking down at a massive rollover visualizing your line on repeat.

"Three, two, one, dropping!" Concentration is at an all time high. Adrenaline is pulsing through your body as you push off. Two turns and you'll be able to see your line in all its glory beyond the rollover. Crank a left hand turn to get on the other side of the spine and then you're blinded. In the white room, but you know where you are. The snow is bottomless. Right hand turn, it's not as deep on that side, gives you a second to look further down your line before another left-hander. Then sightless again.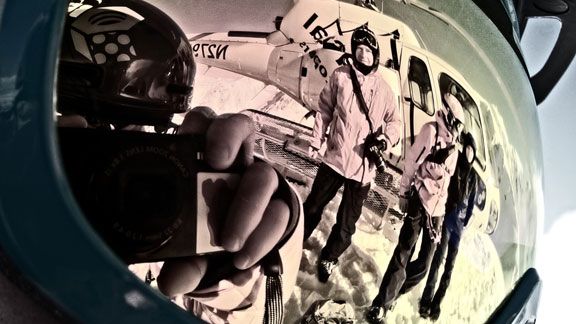 Watch out for your sluff. It's moving fast today. Keep moving down the line. This is a big spine. Almost to the end. Two turns left then an air and your exiting left away from your sluff and pointing it. You are totally in the moment. There are no thoughts in your mind other than what is presently happening.
Then it hits you. A little too far to the right and your tails are caught by the sluff. It happens fast. There's nothing you can do. Obscenities are pouring out of your mouth. One ski is off, then you tumble for a while. Second ski pops off and you get a glimpse at some peppered rocks as your fly by them. You know you're falling in a safe zone, but seeing rocks is always scary. A few more rag dolls and finally it's over. Tap your head to let everyone know you're okay. You're okay. Breathe.
A mix of emotions between disappointment that you fell, but stoke that you just skied the biggest spine of your life. The rest of the day, you still visualize that line. You learn from your mistake and you wish that you had nailed it.
I am constantly learning in Haines.